Candles- Learn about them and Shop for them here
Shop for Candles for Your Home And Garden
Let me start by telling you that I know a few things about candles. When I had a gift shop, candles were the best selling items in the store. Particularly high scented candles. My store was the best store on the route for my sales rep.
When they found out that I was closing my business, they asked me to come to work for them as a rep, because I already knew the product line so well.. And I did. ( I also represented other lines too.) I represented the candle line for several years.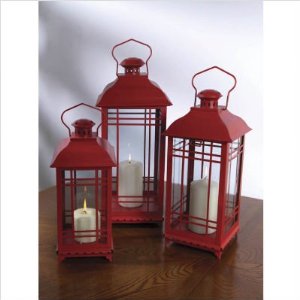 Three Piece Candle Lantern Set in Red
So, I know that candles are popular. They are more popular indoors during cooler weather because people spend more time outside during warm weather.
Candles make nice decorative accessories in everyroom of the home. Place them on fireplace mantles, table centerpieces, in wall sconces or even inserted in fireplace openings during warm months. The fragrance in great and so is the glow of candle light.
But they are very popular outdoors in outdoor living spaces suchs a patios, and outdoor kitchens any time the weather permits.
They make great gifts too. Candles can be used indoors and outside. Always use glass around candles outdoors for wind protection. Lanterns like the set featured above are perfect for outdoor entertaining.
Recommended Products
Candles come in a variety of scents. Many of the scents are seasonal. The Yankee candle Midsummer's Night, shown below is a good choice for summer time.
Look for fall scents and other varities of candles for summer and every season at the Candle Store Below.
Yankee Candle Midsummer's Night Large Jar Candle
A provocatively masculine scent, mysterious and powerful. Evocative, true-to-life scents. Renowned Yankee Candle® quality. There are many reasons why our Housewarmer® candle line is America's favorite. The traditional design of our signature Housewarmer® jar candles reflects a warm, relaxed sense of style that's always at home.22 Oz. Housewarmer has a 100-150 hour burn time.14.5 Oz. Candle has a 65-90 hour burn time
Here are a few safety tips when using candles.
Never leave a burning candle unattended. The wax can run over and seriously damage your home, wax is not easy to remove and the dyes used to make the color can be permanant stains on carpets. Not to mention the obvious fire hazard here.
Always remove the paper tag from the bottom of a new candle before you place it in a holder. If you don't remove it then once the candle is placed on the holder you will forget it and catch it on fire when the candle gets low.
Place all candles on a candle holder. Even jar candles. A saucer will work if you don't have a proper holder. Never place a burning candle directly on furniture.
Never place any candle that is not in a container on a wood or fabric service. The dye will fade onto the service. Keep them off of countertops too.
Never place candles in windows or near direct sunlight, the color will fade out or turn an very ugly color. The higher the fragrance content the more likely this will happen. Keep the candles away from the sun.
When traveling with candles during hot weather, keep them as cool as possible. A candle will melt and make a huge mess in the car, all over the other items in your shopping bag and be destroyed forever.
If you are going shopping and plan on buying candles during hot weather pack them in a cooler with ice. Protect the candles from the ice.
Keep candles out of reach of children and pets. Many fire have been started by children attempting to burn a candle.
If you have other questions that are not addressed here, let me know and I will answer them.
If you buy candles for fragrance, buy a better candle, cheap candles will not have fragrance all the way thru and you will be very unhappy with your purchase.
Keep the wick trimmed to about 1/4 inch to help to keep a candle from smoking. A long wick is the main reason a candle smokes.
Keep candles away from ceiling fans. They can blow the wax and make a huge mess, not to mention destroy your expensive otherwise long burning candle.
Only burn your candles when they can be left burning for at least a few hours at a time. Otherwise a pool will develop in the middle and you will not get the proper burn time from the candle.
A good quality candle will burn for about 300 hours! As long as it is burned properly.
Store candles upright, never turned on their side, at room tempurature.
The fragrance will be closed inside the pours of the candle if it is cold, rub the candle with your finger to warm up an area to smell the fragance.
Enter the Candle Store Here