Welcome to My Gardens
They are My Favorite Place to be
My gardens are my favorite place to be.
What about you? Do you have a special garden that you are very fond of? Tell us about it, share photos and I will post your story on this site, for everyone to see!
The invitation is at the bottom of this page.
There are many links on this page to photos, and other pages of the site. It is a tour, take your time and explore the many pages.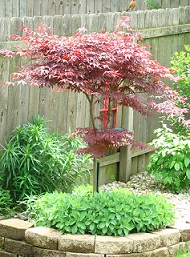 GROW A BEAUTIFUL GARDEN THAT YOU CAN BE PROUD OF WITH SUPPLIES FROM OUR GARDEN SUPPLY STORE
Here is a sneak peak of our Garden Supply Store
See more photos of my gardens that are shared on facebook here AND the latest spring garden photos here
With the arrival of spring, I have added more spring photos as they are available thoughout the pages of the site, starting with this one of a favorite sign of mine. My garden is my heaven.
I recently got to get my garden decor out of its winter storage. So I had the pleasure of placing it in various areas of my gardens.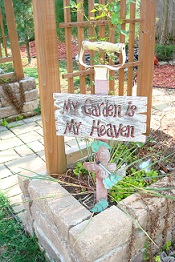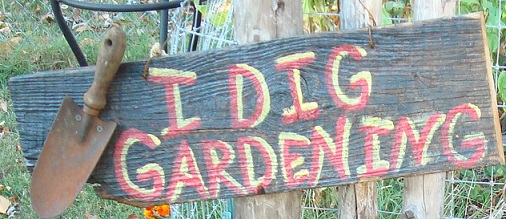 Going back over photos of previous years, to add them to this page, and looking at the many changes to my flower gardens over the years, gets me excited for a new gardening season. Each year brings new ideas.
It was the middle of winter as I wrote this page. The ground was covered in a beautiful blanket of snow.
And as I update, Spring is almost here. So the next gardening season to be focusing on is Spring.
Spring time - is gardening time. Yeah! Spring is rapidly approaching. Here are some Spring gardening tips. And even some information on planting seeds indoors As you can see from this barnwood sign in the photo above - I Dig Gardening!
I cannot wait to get my hands in the dirt, and bring some flower seeds, that I have saved to life.
If you click on the links on this page, you will see hundreds of photos of my flower gardens as they are shared on the related pages of this website.
The photos on this page show my gardens from last summer and fall.
These photos are of a trumpet vine with orange blooms on one side of my fence, and a rose of Sharon bush on the other side. It has lavender blooms.
Together they give alot of privacy to my back patio area.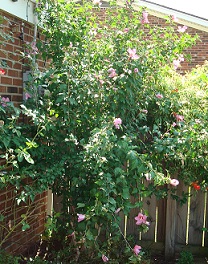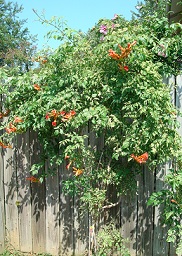 During winter months I don't get outside as much as I would like. But I do get out enough to get some nice photos of my winter garden and share them here and on facebook.
But as soon as it warms up, I'm outside planning my next garden. and taking lots of new photos to share.
I have lots of plans for my gardens this year. Read on to see what I have in mind, when the weather permits. You could get inspired to make some gardening plans too.
The winter months can be very harsh. So I am always anxious to see the outcome of my flower gardens.
Over the past 4 years my husband and I have transformed our property into a series of gardens from the street all the way back to the back fence line. It all started when we decided to improve our curb appeal by doing some updates to the landscaping right after I moved in. These projects included some updates to our front yard landscaping Which also included the removal of a large pine tree from the front lawn We transformed that space into the first of many free gardens.
Like this latest one featured in this photo below.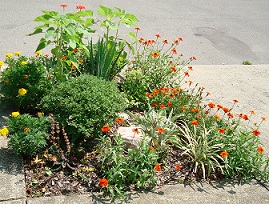 Our gardens are all dormant in winter, but you can take a stroll thru my winter landscape And see how it looks when there is snow on the ground.
There are enough wrought iron items and natural elements such as logs and stumps and stones to add interest to the yard even during winter months.
Spring time brings new opportunities, which usually means new flower beds will be created. 2010 saw the arrival of several new flower gardens, and left work to be done to create more for 2011.
Last year we started a new cottage garden in what used to be a side yard. I am excited to do more work there this spring and add more perennials flowers and annuals flowers to the area. We added a stone path and patio there last fall as we were completing some fall gardening chores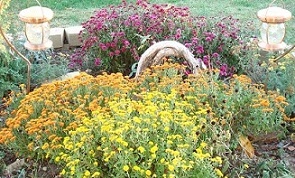 This year we are going to extend our raised bed garden that we built last year.
We are going to move a small shed, and build a new shed using lots of recycled barnwood that we have stored.
We have already used some the barnwood for several projects around our home including making the fence around the raised bed garden, to keep the dogs out.
We built a large pergola out of some of the barnwood material. It makes a perfect support for a wisteria vine that we have and we can enjoy the view of the secret garden while seating in the swing that is supported by the new barnwood pergola.
The secret garden is doing a great job of providing us with the backyard privacy that we needed. It is also a nice place to sit and relax. The addition of more backyard privacy is just one of many backyard projects That we have done over the years.
Inside our home we even used barnwood to make built in shelving and a desk and wainscoting with chair rail molding for our new home office where I operate my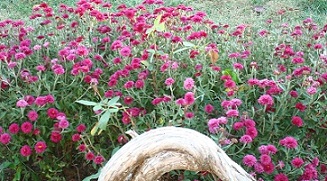 And get to share home and garden improvement ideas with you.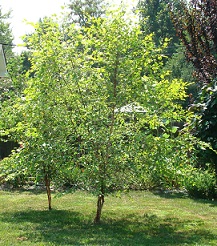 Building the new office was part of our complete basement remodel project. That kept us busy on the inside during cold months when being outside was not possible.
You can use reclaimed barnwood for lots of things. I make barnwood signs, like the one at the top of this page for gardens too. You can purchase the Scrappy Signs and barnwood crafts . . from our store - the Rented Mule Home and Garden Store Get more ideas for barnwood decor here. I eagerly await the arrival of sunshine each spring and warm days to get started in my gardening adventures every year. I bet you do too.
I find my gardens to be the most relaxing place, here at my home. We all could benefit from more relaxing experiences in our busy lives.
I have already been shopping for Garden Supplies at Our Garden Supply Store I love being outdoors in my gardens, or visiting natural settings such as state parks.
And another reason to be excited about spring time- we have a travel trailer and we are excited about taking another camping trip too.
Actually we have lots of camping trips planned for this year. We intend to so some relaxing and enjoying life instead of being stress out.
You can read about our relaxing camping adventures on my other site at http:www.camping-to-relax.com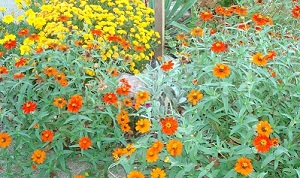 I invite you to share you gardening stories with us.
You will find easy submission forms on various pages throughout the site. Or you can share them on this page too. The invitation is below. Share you photos too.
And while you are in the sharing mood, visit http://www.camping-to-relax.com/Camping-Stories.html to share your funny, romantic or scary camping stories with us too.
Brag about your fishing experiences or hunting adventures, I will post them on the camping website for everyone to see!
Then you can tell your friends to read all about it! Include photos with your stories too.
Have A Great Story about Your Gardens?
Do you have a great story about this? Share it!