Beautify Your Home with Decorative Outdoor Lighting


Shop our Lighting Store for Indoor and Outdoor Lighting for your Home and Garden


Improve your home and garden by adding adequate Decorative Outdoor Lighting to enhance your curb appeal and give the added benefit of better security outside your home. Now you can shop for lighting here
The picture below shows my front entry after dark. This picture was taken recently. We replaced, old outdated wall lanterns a few years ago.
The entry has enough lighting to be safe for visitors.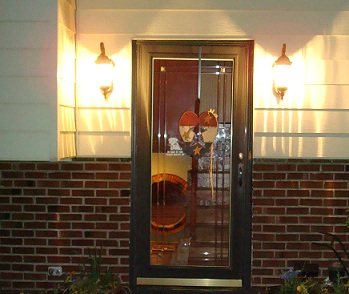 Determine if you have adequate outdoor lighting
Do you have good outdoor lighting at your home? Here is a quick way to find out.
Turn on all of your exterior lights then take a stroll up and down your street at night. Notice neighboring homes, see if their lighting provides an appealing and secure look.
Then look at you home. How does it compare? Can you see everything they way you would like?
Is it dark in front of your walkways, driveway, landscaping or front entry. Are all the lights working, are there any bulbs blown or missing?
If any of these problems exist, it is time for some much needed updates to change the look,safety and security of your home.
Exterior lighting can add both beauty and practicality to your home.
When looking at a beautifully-lit house at night you immediately see how decorative outdoor lighting can accentuate the beauty of the home and landscaping.
The proper exterior lighting also adds to the curb appeal after dark. It can also create attractive and dramatic effects in your nighttime landscape.
Decorative outdoor lighting needs to look good, and also provide safety and security for your home by illuminating pathways and your driveway after the sun goes down.
The main reasons good outdoor lighting is needed are obvious, enhancing the look of the house and landscaping, safety when being outdoors and better visibility for added
Keep the desired function of the decorative outdoor lighting fixture in mind when designing the layout for any new lighting product installed.
At your front entrance, side lanterns on either side of the front door look nice and provide good lighting for the doorway area.
If you already have existing fixtures here, see if they need updating for a better look and better lighting. If the fixtures look ok, make sure both lanterns have working bulbs.
If you have a front porch consider a hanging fixture for the porch area.
In warm areas a ceiling fan on the porch is another nice option.
Consider the energy use of the light fixtures and buy products that are energy efficient, to save money on utility bills.
Uplighting looks nice in landscaping to feature nice trees.
Stake lights are perfect for along walkways and driveways for added light when walking. And consider a post light in the yard close to the walk for added visibility.
Install timers on any lights that stay on for extended periods of time.
Add spot lights or flood lights on the sides and back of the house for added safety at night. Make sure that your outdoor areas such as patios and decks are properly lite as well.


In areas that get plenty of sunlight consider solar fixtures for easy installation and energy savings.
Solar lighting probably wont be as bright as electric lighting.
But, the added benefits of additional decorative outdoor lighting and the flexibility of placement and ease of installation as well as being inexpensive make them a great
option or inclusion in your lighting needs
Make sure that your landscaping is not blocking solar lighting or important electric lighting.
Some bushes and shrubs grow over top of or in front of fixtures quickly.
Sometimes we- the busy homeowner living in the home- don't notice these things. But if you have guests at night that are not as familiar with your home as you are, the lack of lighting can be a real safety hazard.
Solar lights wont recharge if they do not get adequate sunlight.
CASE IN POINT-
When I moved into my home, the shrubs had gotten so big, even though they were trimmed regularly, it was not possible to see one of the lanterns beside the front door.
Needless to say, big changes had to be made. We removed the large shrub, (Which needed to go anyway),but that is another story.
By removing the overgrown old shrub it opened up the area around the front door.
Once this was done we could see the worn fixtures better. So we decided to replace the dated wall lanterns on either side of the front door.
When exposed to the elements 30 odd years of mother nature takes its toll on decorative outdoor lighting fixtures.
Amazing result- the entry was much better lite, the overall feeling was much larger, and the curb appeal was alot better.
We chose beautiful brown fixtures that match the house better and won't tarnish like the previous brass fixtures had done.
ANOTHER CASE IN POINT-
We added solar lighting and spotlights to our front yard landscape after re doing our landscape. We keep the stake lights that we already owned.
The overall look is much nicer now and we can angle the spotlights to feature various parts of the lawn when we chose to.
Be cautious when running any electrical wires in areas where you will be digging, such as adding plants and bushes. Know where the wires are before starting the project,
to avoid damage.
The lights are on individual switches so they can be used separately.
For more Front Yard Landscaping Ideas other than Decorative Outdoor Lighting look here.



Enter Our Lighting Store Below