Backyard Projects that will Inspire You to
Make Better Use of Your Outdoor Space
So many backyard projects to do, so little time! That is how we feel, you may feel the same way too.
Look this page over to find links to lots of projects we have done ourselves to our won backyard.
And also links to great ideas for the future for our backyard and yours!
You will find 10 links on this page, to various projects perfect for backyards. All projects are detailed in this website.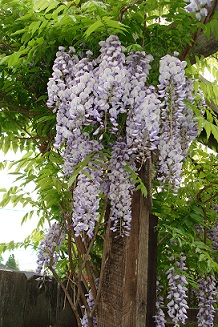 Turn your backyard into a retreat with these backyard projects ideas and save money when you shop at Our Backyard Living Store




Find Everything you need for Your Garden, at Our Garden Supply Store




The photo below shows the raised bed garden fence under construction. That is just one of our now completed backyard projects that this page features.
Read on to find out more.

We have probably done more than our share of backyard projects over the past few years. My husband had already started several before we met.
I am going to touch on some of our backyard projects on this page. I will then get into more details about those projects as needed on separate pages.
There are way to many projects to be able to give good details on one web page.
Build Landscape Walls
The picture below shows a large wall built out of wall pavers. Terry started this wall before I met him. This is one of several landscape walls
we have now.
After we got together the project proceeded, but with a very different ending than he had started out to build.
Read about building Landscape Walls in your backyard here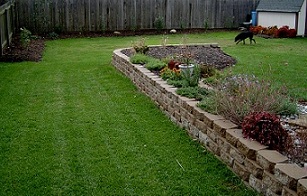 Add a Secret Garden to your Backyard
Notice the back fence in the picture above. You would not recognize it today. That fence cannot even been seen during summer months now.
We dislike the view beyond the privacy fence so much it inspired us to add more backyard privacy there.
That turned into an even bigger backyard project. We turned the entire area into a secret garden.
Here are a few links to give you some ideas-
The first link is a great project, build a secret garden that also provides more backyard privacy.
Build a Secret Garden in your Backyard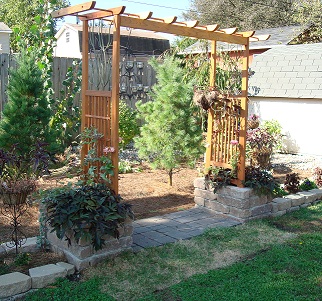 Build a Natural Stone Patio
Inside our secret garden area we added a natural stone patio
.
The price was certainly right on this project! Check out the details to that project at the link below.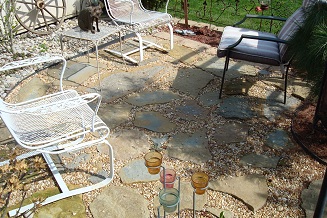 Find out how you can build a natural stone patio , like ours for under $100.00
Move a Garden Shed
We are going to build a new garden shed
this year. But before we can build it we have to move our old shed. Get the details on how we did it. You will be surprised. I know I was!
See details on how to move a garden shed!
Extend your Outdoor Season with a Built in Outdoor Fire pit
This backyard project is a great way to extend your outdoor season. When there is a chill in the air....build a backyard fire pit
!
Build a Fire pit in your backyard like we did! Click here to find out how.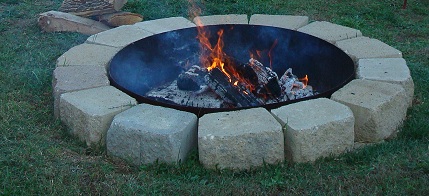 Add an Outdoor Kitchen
Another great project is an outdoor kitchen, you should get years of enjoyment in a quality outdoor kitchen, built into your backyard living space. Look here to get inspired and to determine what your needs are.
We don't have one yet, but an outdoor kitchen
is in our future plans. I have been doing my homework!
We recently removed an old unused hot tub from our patio. The outdoor kitchen we intend to build will eventually will probably go in its place.
If you have an outdated eyesore that you no longer use. Put if on Craigslist. We had about 50 calls in one day about the hottub. We gave it away to the first person that had something to haul it on.
We never had to touch it. Remove your Craigslist ad as soon as the item is gone to avoid more calls.
Build an Outdoor Kitchen in your Backyard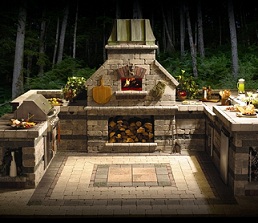 Build a Raised Bed Garden out of Recycled Materials
The next project is a definite benefit to your backyard.
Add a raised bed garden
to grow vegetables and flowers, or even fruit.
Check out the raised bed garden we built here. Our garden even has raised planters
for flowers built in to the project.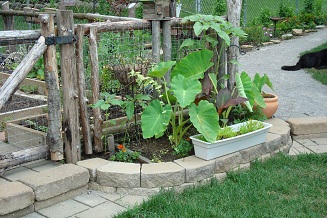 Build a Raised Bed Garden in your Backyard
We have added a new curved pathway and several flower beds
near the raised bed garden. This is still a work in progress.
Click on the link below to find out more about it.
Next to the Raised Bed Garden we Extended our Fence Line and have made several New Flower Beds. Check those out here!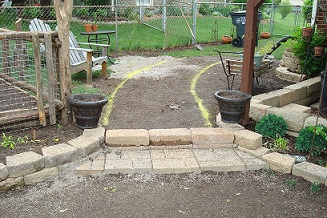 Get more Backyard Privacy
I mentioned backyard privacy earlier, check out the page on backyard privacy ideas below.
backyard privacy
is very important. If you feel like you are being watched by strangers passing by it can make you feel uncomfortable.
Get ideas from our backyard privacy projects at the link below.
Of all the backyard projects mentioned earlier, this could be the most important.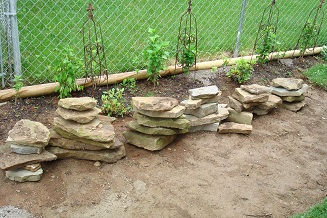 Build a Pergola - This Backyard Project Plays Two Roles
Find out how to build a pergola, using barnwood, or whatever wood you have available.
Our pergola
project I am referring to with be a sturdy support for our fast growing wisteria
vine.
It will also be a place we can hang our porch swing
and enjoy the view of our flower gardens
and our secret garden..
See the photo below and then-
Check it out below at the link below!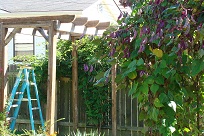 Learn how to build a pergola that does double duty!



Tell us what you think about these backyard projects. click on the link below to leave your comments
Post your Comments about backyard projects here
Check out the Valuable resources below to save money on your backyard projects.
$50 off $350 or more at BackyardXScapes.com! Use coupon code BACKYARD50 upon checkout. Discount cannot be applied toward shipping.



Perky-Pet Wild Bird Feeders - #1 Wild Bird Feeder Brand in the Market! Search the largest selection of beautiful and functional wild bird feeders from Perky-PetPerky-Pet Wild Bird Feeders - #1 Wild Bird Feeder Brand in the Market! Search the largest selection of beautiful and functional wild bird feeders from Perky-Pet