Realize the Joy of Gardening for Yourself
When You Grow a a Flower Garden or Vegetable Garden
Shop for your Home and Garden at our Home Improvement Specialty Stores
You can realize the joy of gardening for yourself and also discover the many benefits of gardening too when you grow a flower garden
or vegetable garden
of your own.
The benefits of gardening far outweigh the work involved many times over. One such joy of gardening for me, is the delight in seeing the first bloom of a rose for the year, like in this photo of a Joesph's coat climber on my back patio.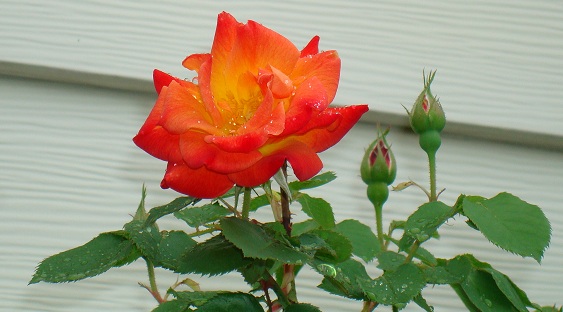 I also delight in taking lots of photos of my garden during different stages of development and sharing them on this site and on facebook. See 30 photos of my spring gardens here Find out more about how you can become a gardener too, and take pride in the beautiful surroundings you create.
You can get lost in the relaxing surroundings of a garden. Take a stroll and rest and unwind in agarden bench or comfy chair
after a hectic day. And, you will discover that you enjoy spending more time outdoors. And, you will also learn to appreciate the beauty of nature more than you ever thought possible.
One of my favorite joys of gardening is discovering the daily gifts that await me as I take my evening stroll through my gardens. In the spring time every plant is alive with vibrant color followed by spurts of new growth and shows of color with beautiful blooms. Like these verigated weigelia in this photo. After getting new leaves it is getting ready to bloom.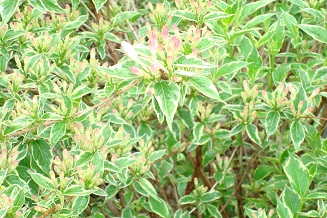 See the hostas in our secret garden in the photo below. They have just started to grow out and are showing off their beautiful foliage. There are several varieties of hostas
in our secret garden.
To an experienced gardener, the thought of spring time is the most exciting time of year.
When spring arrives after a long and cold winter, an experienced gardener is over joyed with the thought of getting their hands in the dirt!
That may sound like a strange idea to some people, but if you have never experienced the thrill of seeing something grow, that you have planted yourself, you are missing out on a very simple yet wonderful feeling.
I is simply amazing to grow plants from seed and turn them into a colorful display in your flower garden.
This photo is a close up of a red japanese maple. The color is gorgeous as it grows out in the spring.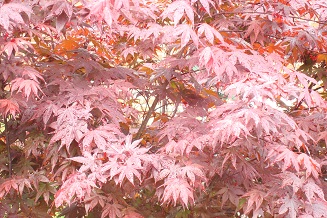 Notice the wisteria blooming, in this photo, while supported by a
pergola build out of reclaimed barnwood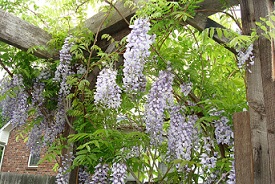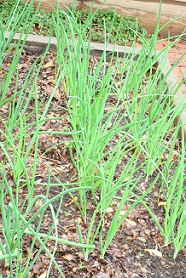 For example- another joy of gardening, is saving money. You can save money on your grocery bills, if you grow your own vegetables.See the photo above of onions growing in my raised bed garden When starting a first time vegetable garden, start out growing just a few different types of vegetables such as tomatoes, lettuce, onions and cucumbers, so you will have the basic components of a garden salad.
This type of vegetable garden can easily be grown in a raised bed without taking up alot of space.
As you gain experience as a gardener, you can get into more varieties of vegetables and add on such items and herbs, and fruits such as blackberries and strawberries.
You will soon discover how it makes feel good about growing your own produce and knowing that you have saved money, while making healthy choices about your diet.
There is some work involved in making a garden, but you are getting exercise and spending time outdoors in the fresh air so that is a healthy benefit too. Just dress properly and use the proper tools and equipment to minimize the work.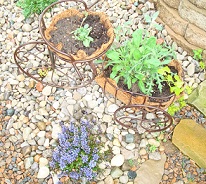 Another joy of gardening, is getting to beautify your surroundings, when you plant flowers and trees. You can enjoy the colors and fragrances of the flowers and enjoy watching the birds and bees that visit your flowers.
And plant flowers in unusual containers such as this tricycle made out of Wrought iron and watch it grow to capacity over the summer is alot of fun. Mix colors of foliage such as green and purple together for a nice look.
There are many types of flowers to choose from that are perfect for your unique gardening needs wherever you live.
Creating flower gardens, is another form of gardening that can be done in stages. You get to be creative, and design the garden to include your favorite types of flowers. Add garden decor items such as wagon wheels to add interest. I love bring out all of my garden decor items each spring.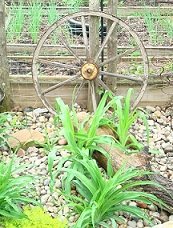 Start small, save flower seeds, and learn as you go, then add more to your gardens in your landscape each year.
Before long you will be making new gardens and without having to buy new plants because you can divide some of your existing plants.
This gives you a better value for your gardening investment. And saving money by shopping from your own garden, is a thrill in itself.
You will improve your property value and your curb appeal when you add flower gardens to your landscape. And you will get compliments from your neighbors too.
So, start growing a garden today, and realize the joy of gardening first hand. After you start taking a daily relaxing stroll, through the gardens that you designed and created yourself to see what is new, you will wonder how you ever got along with them.
Shop for Garden Supplies to get Your Garden Started Right, below
Garden Seeds
Garden Supplies
Garden Decor