Add Rustic Charm to your Home and Garden using Barnwood Decor
Using barnwood decor inside and outside your home will add a touch of GREEN to your surroundings.
We reclaimed a few barns and have found creative ways to use the barnwood around our home and in our garden.
I realize that not everyone has an abundance or barnwood at their disposal. But barnwood can be purchased for the uses we describe.
So read on to find out ways to add barnwood decor items to your home and garden.
Read the Article "Fun and Functional Uses for Barnwood", That I wrote before I had this website
Barnwood Decor Ideas for Outside in the Garden and Landscaping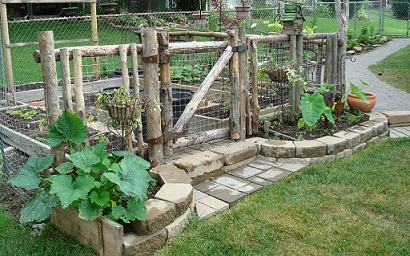 The photo on the right shows our fence and gate to the entrance or our raised bed garden, we built in our backyard.
We used tobacco poles that were originally placed inside a barn to dry tobacco.
The poles were perfect for fence posts and for the gate to the garden.
This photo on the left shows the corner post of the garden fence.
The post offers unique decorating opportunities with the forked top.
This year I grew morning glory vine and let it climb up the post.
The look is rustic and very charming for a casual setting.
See how the forked fence post looked with Morning Glory vine growing on it on the fall gardening page
See Details on how we used Barnwood to Build our Raised Bed Garden here
Join Our Mailing Listing!
Sign up to get our FREE Improve your home and Garden Newsletter below. Periodically, I will send you valuable information to help you with your home and garden projects.
We also used barnwood to make our raised beds in our garden.
The photo below shows the garden under construction.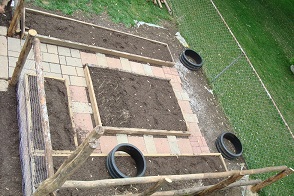 Our latest outside project that involves barnwood is our pergola. We have a wisteria plant that is currently attached to the privacy fence.
This plant is only 3 years old. It was started from seed. I am amazed at the rate the plant has grown. It bloomed this past spring! Wisteria does not usually bloom that quickly.
It is gorgeous! So the wisteria deserves to have a proper support.
It grew up and attached itself to a metal wall decor item I had attached to the fence. Well, that is not going to be enough to support the plant.
Read about our Latest Barnwood Decor Addition to our Landscape- And find out how to Build a Pergola
Our new barnwood pergola is also going to double as a support for our never used porch swing.
The swing is currently hanging upside down under our deck. There is a picnic table in what would be the swings location.
I paint barnwood signs - another barnwood decor item, in the shade at the table. So the picnic table has to stay.
Hopefully the new pergola will provide us with a place to enjoy the view of our gardens as we relax and swing under the wisteria covered pergola.
This photo shows the new pergola under construction. Full details will be disclosed on the Build a Pergola page that is linked to this page above.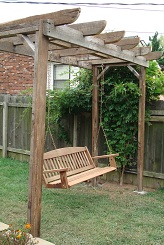 We have plans to build a garden shed at the back of our property. The new shed will be built out of the reclaimed barnwood that we have collected.
The garden shed project will also be included on this page when more details develop.
Earlier I mentioned that I paint barnwood signs.
Another part if my business is sales. The business name is Rented Mule. The barnwood signs that I paint are called Scrappy Signs. I use barnwood to make some very cool signs.
The signs are weatherproofed on the painted side if they are intended for outdoor use.
I hand paint the barnwood signs. I also make custom hand painted signs from barnwood.
The signs are available thru my other website. The link is below.
Find out how you can get your own Scrappy Sign made from Reclaimed Antique Kentucky Barnwood Here.
I have added a photo album that shows 24 assorted Scrappy Signs on my facebook page. Check it out at the link below.
Scrappy signs also make great campsite signs, holiday signs anniversary signs, you name it, I can paint any English wording on barnwood.
I even make Scrappy Signs for pets too! With paw prints.
View more samples of Scrappy Signs on this page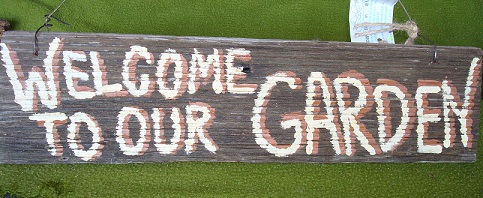 The photo above is an example of a Scrappy Sign by Rented Mule.
The signs can be used inside or outside. Any wording can be painted in them. You can email me at scrappysigns@gmail.com for a quote on a custom sign.
We also make a variety of barnwood decor items that include crafts such as wall shelves, framed mirrors, standing shelves, business card holders coat racks and more.
The photo below shows a shelf made out of antique barnwood. We can do custom items like this in any size. This shelf is made out of antique oak and wormy chestnut.
These items can be shipped anywhere or picked up locally and are also available at the same link as the Scrappy Signs.
I also sell the barnwood crafts and signs at our local peddlers mall. Get full details at the link below.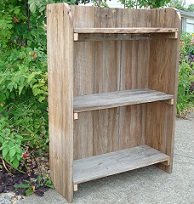 Check out the Barnwood Decor we display at our local Peddlers Mall
Our Home Office has Barnwood Wainscoting and Built in Custom Barnwood Furniture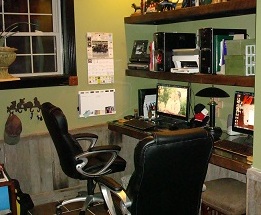 We recently completed our home office as part of a basement remodel. During this extensive basement remodel we acquired the barnwood.
So we wanted to use the barnwood inside our home somewhere. We used antique wormy chestnut and made wainscoting for the walls. We also made chair rail moulding out of the chestnut.
I have heard that wormy chestnut is hard to come by and expensive. We left is natural, I love the weathered look of the antique barnwood.
The built in desk is made out of white oak and so are the open shelves above the desk.
The look is rustic, and very custom. We love it.
Find out more about the details of the home office project at the link below.
Check out more photos and details about our home office remodel here.
Hopefully this page has given you some inspiration on ways to use barnwood decor in home or garden.
Barnwood is a precious part of history. Barns are falling down all over rural America. Each time I sell a barnwood sign or craft I feel like I have just placed a piece of history in a good home.
Barnwood is already hard to get and will eventually disappear.
If you enjoy the look for you home or garden find a way to get some now. We put an ad on craigslist to remove barns and got our barnwood that way. Give it a try. Good Luck!
The photo below is another of my Scrappy Signs that is available.
Order Custom Scrappy SIgns with any wording here

Check out the Valuable Resources below, to save money on items you will want to go with your indoor and outdoor barnwood projects.
Shipping is FREE on any order over $49. At birdfeeders.com See the link below.
Free Shipping. Priced and ships as a pair, the Harmony wall bracket has a beautiful and practical design which, makes it appropiate for many different decors. This bracket features a bronze rust finish and is pre-drilled for easy mounting.Iron accents look great with rustic barnwood!