There are Several Different Types of Outdoor Rooms You can Enjoy
Including- Outdoor Living rooms, Outdoor Kitchens
Secret Gardens, and Garden Rooms
Create the Backyard of your Dreams when you shop Our Backyard Living Store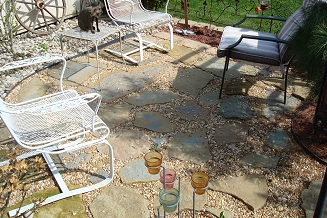 Is your backyard open to everything, with no sense of purpose or privacy? Consider the creation of Outdoor Rooms to your backyard and gain full use of your backyard.
The days of bigger is better is not necessarily true anymore. The trend in backyards is to get the most good and enjoyment out of the space.
With the cost of travel being so expensive with today's gas prices, alot of people are spending more time vacationing at home instead of paying for the cost of gas.
Turn your backyard into your own personal retreat with patio furniture, grills, firepits and alot more from our Backyard Living Store. And another reason outdoor rooms are becoming popular - You may no longer have the need for a big open space for kids to run around in, or want to feel so out in the open, when you are in your private backyard.
Outdoor living spaces create a more intimate and private feeling. They also make gret places for outdoor entertaining.
Outdoor rooms can have different uses and a variety of looks. They can be fancy or casual. All of this depends on how you build them and what style your prefer.
When I say build, I mean how you surround the space. You can have fencing for walls, hedges, casual shrubs and trees or even brick or stone walls.
Find everything you need to grow beautiful plants and trees in your backyard at our Garden Supply Store
Recommended Products - Water Features
You can added focal points such as water features or firepits for added enjoyment and relaxation. See the water features suggested above.
Outdoor rooms can have solid roofs or pergolas. Or be left open to the sky. The choices are huge.
But you can keep it simple and rustic and be just as happy with the space. That is my preferred style.
If you seek privacy from the view of others, planting walls of fast growing hedges or trees may be the answer for your individual needs.
If you seek year round privacy use evergreens or build a fence.
For seasonal privacy consider growing annual or perennial flowering vines such as hyacinth bean vine, or morning glory, wisteria, or trumpet vine over wrought iron arbors or fences or even on a trellis
I have some of all of these plants and more in various aeas of my yard. They really do create a more private garden room like setting where they are growing.
This site is filled with links to online stores that can provide you with lots of items for you outdoor living spaces. The Photo on the right above, shows our patio area in our secret garden.


Recommended Reading
Outdoor Rooms: Fresh-air Kitchens And Living Areas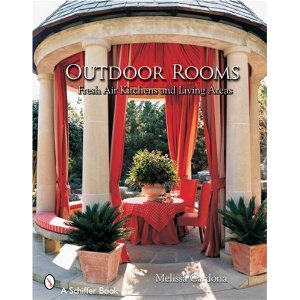 Outdoor Rooms: Fresh-air Kitchens And Living Areas
Rooms Outside the House: From Gazebos to Garden Rooms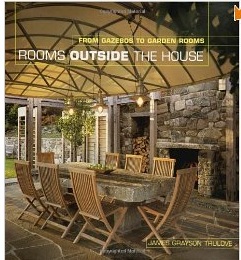 Rooms Outside the House: From Gazebos to Garden Rooms
Let's get this party Started!
Click on any of these 3 photos below to get full details on the products. Any of these items would be wonderful additions to your outdoor rooms!
These colorful chairs are a small part of the selection available from Adirondackchairs.com
Bamboo Furniture, 6 pcs Set: These sets include a table, umbrella style roof, and 5 chairs, and will look great on any deck, patio, or backyard. From 1800Pools.
This Tiki Bar from Backyard EXcapes is the perfect place for conversation and drinks.
Get more Enjoyment from the Outdoors
Get more ideas on entertaining outdoors at-DIY- Why You Should Add an Outdoor Kitchen for Better Outdoor Entertaining


SunBrite SB-4610HD 46 Inch All Weather Outdoor LCD Television


Click on the Photo of the outdoor TV above for full details about all of it's features.
Depth : 6.85 Inch Screen Size : 46 Inch 1366 x 768 WXGA Super-bright 800 nits screen Super Bright 46quotLCD HGTV Screen.
This outdoor TV's Quad-fan airflow system keeps unit cool and dry in temperatures up to 122 degrees.F Internal thermostatically-controlled heater protects TV in temperatures as low as 24 degrees F.
Innovative watertight cable entry system with pass-through design keeps cables dry and allows for easy hook-ups. Detachable Speakers Water-resistant Remote Control.
Never miss a favorite ballgame or TV show while still enjoying being outside in our new ooutdoor room.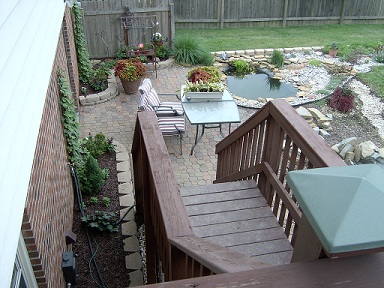 There is no reason to stay indoors during nice weather when you can extend the livable portion of your property by creating appealing outdoor living spaces.
The photo on the left above shows our back patio still under construction. This was taken a few years ago. The photo was taken from our second story deck. That is another example of an outdoor room.
The photo on the right shows our patio as it looks today. the area is large enough for a table and chairs and assorted chairs.
Notice the plants on the fence line. They have grown up large enough to provide alot of privacy.
It space will later become our outdoor kitchen and will have a covered pergola over a portion of it. So there are many changes planned for the space.
We also have usable space under the deck. I consider that area another room.
It is not difficult to build outdoor rooms, or living spaces. Just look your yard over and start to divide and conquer the areas to meet your individual needs for the space.
Think of you outdoor living spaces as you would think of your indoor spaces.
Our homes are expected to be divided into individual areas for varied uses. You can do the same thing outside.
If you think of your yard as living space you will get better use out of it, and enjoy it more.
Of course there is nothing wrong with a big open lawn, but if you rarely use the lawn, what is wrong with getting more use out of the outdoor space that you have by dividing it up into outdoor rooms?
It may have never occurred to you that you could get better use out of your back yard if you thought of it as an extension of you house.
The more conscious you become of outdoor living spaces, the more you can customize them to suit your needs.
Here are some Design Considerations - For Outdoor Living Rooms or Spaces
Indeed much of the desire for the concept of separate rooms in our homes is that each room is unique to itself.
We can put equipment in the kitchen or bathroom for instance, and not have to worry that it would look odd in the living room or bedroom.
The same concept works for outdoor rooms
You can have separate outdoor living spaces by creating mini landscape designs, each individual to themselves, yet letting them flow together because you use some common components.
Just think of it the same way you decorate the inside of your house. Rooms flow together better when some common elements are used through out.
But the more successful you are in physically separating one outdoor living space from another, the more flexibility you have to diversify without creating an unattractive or disfunctional area.
If there is an area you need for storage and you don't want to see it from another part of the yard, separate it from your view by using a fence or tall hedge. This would in fact create a room separate from the rest of the yard.
You can even set the Mood With Color- For Outdoor Living Spaces:
You can determine the color scheme for you outdoor room with plants and flowers just as you would develop a color scheme for an indoor space with paint and wallpaper.
Mood and perception can be influenced by the colors used in landscaping.
Just like indoors the colors you chose for your outdoor rooms can even effect the size of the area. Dark colors feel smaller or more cozy while lighter colors makes the space feel larger.
Add an Outdoor Kitchen to your collection of Outdoor Rooms
CASE IN POINT - Our transformed side yard turns into a Garden Room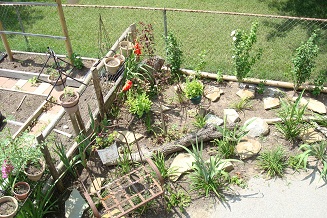 Our new day lily garden in the photo above is right beside our raised bed garden. This is part of our backyard that used to be an unused side yard.
Now it has garden bench, a small stone patio,(out of view from this photo, but shown on our home page), a pathway and lots of intesting plants in the outdoor room.
I would consider is a much better use of space as a "garden room" now instead of a side yard.
We have added lots of rose of sharon bushes and other plants at the chain link fence line for more or a garden feel to the outdoor room.
We are working on a cottage garden project in this area too. Get more details here Our backyard is fenced in all the way around. 2 sides are 6 ft tall privacy fence. 1 side in chain link. The fences were there when we moved here.
The view past the back privacy fence is not a desirable view.
The view on the side yard with the chainlink fence is a very nice one.It has beautiful mature trees and is "park-like" But we still desire more privacy when we are outdoors.
Over the years we have placed enough trees and bushes in our back yard that when setting on our back patio during warm months we cannot see the view behind the back privacy fence.
Now our backyard is much more private and view is more desirable and beautiful than a neglected backyard of a close neighbor.
We have a combination of pine trees growing up for full time blockage and fast growing poplars for spring - fall privacy
These trees make up an area we call our secret garden. This outdoor room has now become the prettiest outdoor room in our backyard.
We have various shade plants and have added color with annuals for a dramatic effect. You can Add a Secret Garden to your Backyard, and Gain more Privacy like we did






Would you like to have your own web business? Find out how you can here!