Start at the Front Door whenYOU Want to
Improve YOUR Home and YOUR Curb Appeal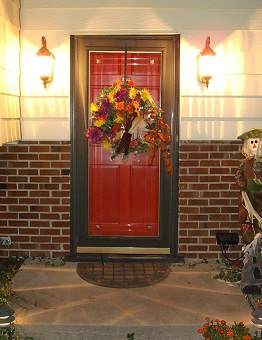 Start at the front door when you want to improve your home and garden, unless you have some other (more urgent) home improvement project that has to be done first.
Remember First Impressions Go Along Way- and YOU Only Get ONE Chance to Make a GOOD First Impression.
The photo above shows my door this fall, see the scarecrow beside the door.
I have added several fall and halloween decorations to the front yard and close to my entryway.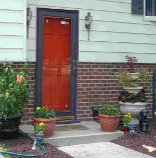 The photo on the left shows my front door, after I painted it and removed the overgrown shrubs from the front yard landscape in 2007.
There have been more changes made since this picture was taken, as you can tell in the first photo.
The main purpose of this page is regarding the importance of curb appeal,and the role your front door and it's surrounding area have regarding good curb appeal.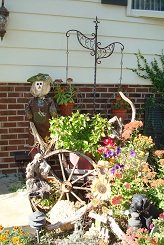 Your front entry needs to set a welcoming, friendly and positive tone for your entire house.
The photo on the right shows a collection of fall and halloween decor beside my front door. Notice the sunflower welcome sign in the display.
There also has to be a sense of security at the door. Make sure all components of your front door are in good working order.
The curb appeal of your front door is very important when greeting visitors. Afterall, you are going to want a warm, welcoming entrance into your home.
And if you are planning on trying to sell your home now or in the future, the look and condition of the front door is crucial.
Good outdoor lighting is also very important for your entry. Find out more about Lighting your Entryway with Decorative Outdoor Lighting



Join our Mailing List
Sign up to get our FREE Improve your home and Garden Newsletter below. Periodically, I will send you valuable information to help you with your home and garden projects.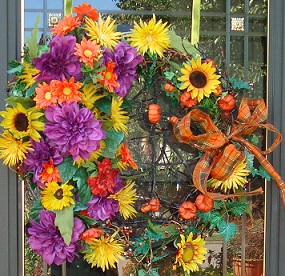 After updating your front door, hang a welcoming wreath on the door. Hang a wreath that is current with the seasonyou are using it.
Use a festive holiday wreath for December, a spring wreath for spring and a fall wreath for autumn to offer a welcome and change of scenery to your front door. A good choice for summer is something Americana, or bright summer flowers.
This wreath in the photo is one that I made, and place on my door during the fall season. It was easy to make myself.
You need a circle as a base, I used a round wall accent. Attach the flowers with wire and let your imagination lead the way. Hang with a wreath hanger.
You can also purchase beautiful wreaths from the link to wreaths galore below.
For more ideas on ways to improve your curb appeal and more front door pictures visit this the link below.
For more ideas on ways to improve your curb appeal and more front door pictures visit this page.



Find out about other ideas for your landcaping and curb appeal. Decorate for the seasons - find out more at this link
If potential buyers drive by and see lots of obvious work that needs to be done, many people will just keep on going.
To update the front door you can either replace it (this can get expensive) or you can add new hardware, house numbers, etc.
A fresh new coat of paint to add color on the door can make a huge difference in the way your home looks. Decorating with color is a good way to make a big impact without spending alot of money. If your home is on the market, a good first impression of your home can help potential buyers finalize their decision to purchase your home. If they drive by and see lots of obvious work that needs to be done, many people will just keep on going.
When a potential buyer first walks up to your home, its curb appeal is essential to how your house is perceived.
Put yourself in the buyers position- would you be happy looking at the front door as it is right now?
Or would you be thinking, if I purchase this house- that door is the first thing to go! If there is obvious wear from years of use, you may not ever actually look at it, but visitors or home buyers will see neglect.
Their first thought might be, if the door needs work, I bet the rest of the house does to, then they start looking for things to be wrong all over. The selling price of your home just went down.
Many home buyers don't want to have to make updates immediately after buying a house.
The task of looking at lots of homes and then finally making the decision and commitment to a mortgage is more than enough to be overwhelming. Then add to that moving in and unpacking the new homeowner is just exhausted.
So if you take care of the problem now, if you are planning on selling, you will be making sure the buyer does not have a negative first impression of your home.
Afterall, remember she is probably looking at several homes to consider, and you want yours to stand out for good reasons.
If you have no intentions of selling your home anytime in the near future, all the better, spruce up your homes curb appeal and you will have many years to enjoy it with your friends and family.
And you have just raised the property value.
Now let's take a closer look at the condition of the front door.
Front doors take a lot of abuse from mother nature. If you don't have a covered porch and your door is exposed, sun and rain can take its toll.
As a result your door may be faded, chipped or cracked.
A fresh paint job can breathe new life into a tired looking door.
Consider staining the door if it is wood and has never been painted. Stain cannot be applied over paint, so you would have to remove all paint first if you decide to stain a previously painted door.
This can be alot of work, but also can be a great new look, do all prep work as recommended by the product manufacture, including repairing any needed imperfections to the wood. Make sure to apply a protective finish after you stain.
Proper preparation is key.
It takes some time, but it is time saved in the long run. Make sure you prep the door for the painting or staining project to ensure a satisfactory job.
Lack of preparation can lead to a do-over sooner than later. So be sure to take your time and prep the front door first. Follow the instructions on any product you use as suggested by the manufacture.
If you decide to paint the door a bold color (great idea)! make sure you prime the door and put the correct amount of coats of paint on the door.
Doing the prep work correctly insures a streak free look. And always allow plenty of time between applications for proper drying - nothing looks worse than a bad paint job.
A pop of color on the front door makes a dull house really stand out. Everything painted all one color or shades of the same color is just plain and boring.
Pick up a color from your brick or stone to tie it all together.
If your house is all siding, look at surrounding homes, when you are searching for ideas you will be happily inspired by homes you go by often.
Other ideas come from visiting the paint department at your favorite home improvement store.
Forget the idea of something outrageous, you will quickly grow tired of it. Then you will be painting the door again.
Consider a color that is pleasing then you add flower pots and more decorative items that match. (more on that later). Consider the shutter colors and the roof color when deciding.
NOTE- The two Pictures below show my front door before and after after it was painted. These pictures are before the light fixtures were changed.
CASE IN POINT-
The front door on our home we live in now - was white when I moved here. The siding is cream. The front door just disappeared into the siding.The overgrown shrubs were doing a great job of helping to conceal the door, but more on that later.
I looked at the colors in the brick and chose a nice bright orange color called Terra Cotta Pot.
The color is bold, but it looks perfect with the brick, which has lots of browns, rust and some black.
I decorate with several terra cotta pots in the landscaping and it all works great together. The storm door and shutters are a dark brown to match the brick. (so far I have not made changes there.)
I do debate on changing the shutter color, but it looks nice with the other browns so for now it is still dark brown. If I do change the shutters, I would not make them orange, that would be to harsh. The front door paint color is just enough of the orange.
We added new house numbers in brass, and a new kick plate at the bottom. We replaced the weatherstripping around the door, for added energy savings. We replaced the locks for added security. The door looks great.
All the changes cost around $100.00. Before that decision I was considering a new door, because I considered that one so drab. I wanted something that popped! The new color made the raised panels in the door show up.
That project saved us the cost of a new door.
I did not even have to take the door down to paint it. I primed it, in place.
The door is metal. I did have to be patient with the paint applications- I applied 6 coats of terry cotta pot paint on it.
This door is probably about 35 years old. That was 3 years ago, and it still it looks great! And it really shows up nice from the street. It looks like we replaced the door.
Consider buying a kick plate if your door does not have one.
A kick plate is attached to the lower portion of your door and runs about one inch or so off the bottom and sides. Kick plates help protect the door from wear. They are an attractive metal guard that really are worth the price.
If your storm door is glass all the way down, your kick plate can be seen from the street. Get one that matches the other hardware on the door. If you have house numbers on your door buy the kick plate to match.
Remember to always remove hardware, cover floors etc to avoid damage from splattered or spilled paint. And always allow proper drying time between coats of paint for the best look.
ANOTHER CASE IN POINT
I once lived in a older home that was desperate for an update, which is typical of a older fixer upper.
One of the many updates I did was paint the front door a gorgeous red color (jailhouse style door). Originally it was painted a very boring, cracked, faded gray.
The first story of the house was stone in shades of gray and beige. The house was built in 1925. It had been remodeled more than once. But the door was original.
Soon after I painted my door - several homes in the neighborhood painted their front doors too.
One neighbor even painted their front door red too- she lived several houses down the street.
The red door took about 4 coats of paint, lots of sanding to get rid of wear, but the end result was very appealing.
I got lots of compliments and was even told it was inspiring to others. The door was just one of many improvements made to the house while I lived there.
If your home has a storm door, if it is ragged, replace it. The new updated look will be worth it.
I had also replaced a very worn storm door from that house.
I don't know how old the storm door was, but replacing it made a huge improvement in both the function and appearance of the house.
Consider changing out the hardware.
Your door locks play an important part in making your front door safe.
Security concerns arise if your lock is not functioning properly.
Also if you have a home that other people have lived in, there could be keys getting into the hands of strangers. You don't need that problem.
This can be the most expensive piece of hardware on your door because of its security role. When choosing a lockset be sure to pick out one that provides the amount security you need.
You also want to make a strong statement on your door. Buy a good quality lockset that matches your other hardware.
Other options include adding a door knocker, new weather stripping and molding.
Look your door over, as you make improvements on some parts you may see that you need to update these items as well.
When you finish the repairs on your front door of your home you are well on your way to improving your home and garden.
Have A Great Story About This Topic?
Do you have a great story about this? Share it! Have your updated your front door? Tell us how you did it. I will publish your story and photos on this website
You will find everything you need to fix up your home at the links below.
Save Money when you shop at the links on this page.
Check out the resources below for projects around your home.