A Family Room Remodel Project can Breathe new Life in an Outdated Space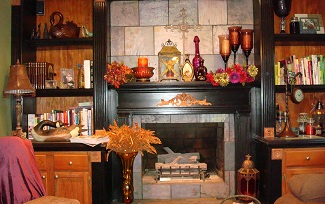 The photo above shows our fireplace after we remodeled our family room.
Consider a family room remodel project yourself if you have any of these problems-
Is your family room boring?
Dull and outdated?
Cluttered with mix and match furniture you removed from other rooms in your home?
Dark and dingy?
Just not your style?
Go ahead, show your home some love, and remodel your family room.
Keep reading to find out what we did to improve our entire basement, including our family room.
Find a great selection of fireplace mantles for your family room remodel project at FireplaceMantels.com ~~~~~~~~~~~~~~~~~~~~~~~~~~~~~~~~~~~~~~~~~~~~~~~~~~~~~~~~~~~~~~~
SHOP FOR YOUR HOME!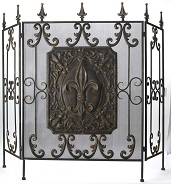 Looking for a new fireplace screen to update your fireplace?
Shop the Rented Mule Home and Garden Store, We have a great selection of Fireplace Sreens to choose from. And while you are there check out the other products available at our Rented Mule Home and Garden Store such as beautiful trunks and tables in our Accent Furniture Collection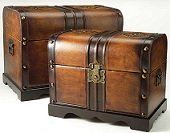 There are even Wine accessories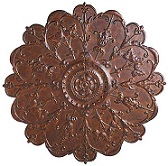 for your home of to give as gifts. And don't miss the collection of Wall Decor we have to choose from.
And if you can't make up your mind on the perfect gift for someone you can always choose to give a Gift Certificate!
Anyway you choose to shop with us, there is something for everyone on your list!
~~~~~~~~~~~~~~~~~~~~~~~~~~~~~~~~~~~~~~~~~~~~~~~~~~~~~~~~~~~~~~~~



Sell YOUR unwanted Furniture on this site!
Do you have to much furniture? Does your furniture fit properly in your family room?
Maybe you would love to update your home with a family room remodel but you cannot get started on the project because you don't have a place to store your outdated furniture?
Sell your unwanted furniure and get what you want! Advertise your unwanted furniture for sale on this site. And get money to put toward new furniture and home decor, or toward your new family room remodel project!
Either way you get a new look and get rid of unwanted items.
The prices are very reasonable and your get a full page ad with photos starting at only $25.00! Make sure you check it out today. Make sure you check it out today. ~~~~~~~~~~~~~~~~~~~~~~~~~~~~~~~~~~~~~~~~~~~~~~~~~~~~~~~~~~~~~~~~
You, your family, and your home can benefit from an updated family room.
Enjoy the space as it was intended - A room for family, pets and friends to gather together and have fun, watch tv, relax in front of the fireplace or do whatever they want.
Keep it casual, for better endurance from all of the activity the space will be used for from everyone.
We did a family room remodel in our basement. It was part of a long term project that involved a complete basement remodel.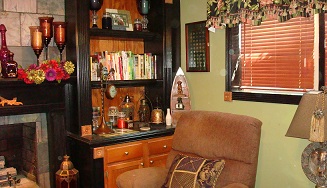 See what other rooms besides our family room remodel, that got a makeover during our basement remodel project.
Look at the area that is, or will be your new updated family room.
Spend some time in the room before you start your family room remodeling project.
Look at the ceiling. Is it a drop ceiling that looks commercial?
Or is in in need of repair, from damage of some type such as a leak from the main floor?
Look at the fireplace if it has one, or if you intend to add one look over the space the new fireplace will be located.
Check out the walls for damage, do you need to replace sheet rock or other wall covering?
Then check out the floor. Is it carpet, worn to the point of no return?
Do you get the idea here? Really focus on what the room has now, and what you cannot stand to look at any longer. Get a feel for what you want, to make it feel like YOUR home.
Make the changes DURING the family room remodel, so you don't live with certain design issues that could have been changed if you had taken the time and thought about them longer.
If the room or area the room will be in has furniture in it. Sit down. Relax, envision yourself in your newly remodeled, up to date family room. Use the space as a Think Tank.
You will come up with lots of design and decorating ideas if you do. Focus on the task at hand.
Think and Talk about the upcoming project ahead of you.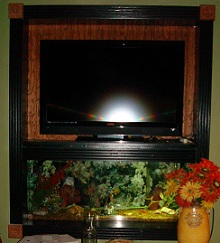 Our family room had a drop ceiling, that looked so much like a quick cover up to hide the floor joists above. One of the most extensive parts of our remodel project was the ceiling.
We also had to replace the floor which had been damaged. So we had to decide what type of floor to install.
The family room had a fireplace on one end wall. After looking it over together we determined that it needed updating.
It entire wall was made of brick, but the brick looked like several people had practiced on it.
None of the joints matched , the brick wall was obviously not the masons best work.
We had a fish aquarium and wanted to build it into the wall.
So we designed an area for the aquarium and the tv to stack one on top of the other into a niche in the wall.
The photo on the right shows the new tv/aquarium niche after the tv was installed.
Our family room ceiling remodel, Details, Details, Details!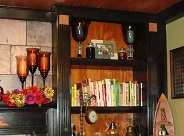 You know how when you are lying on the sofa, or reclining in a chair your eyes naturally go upward toward the ceiling?
But when you just enter a room you focus on eye level areas?
When we enter our family room now after the remodel our eyes go up to the ceiling, because the effect is very dramatic.
As the picture above shows. Here is why-
During our family room remodel project ,we removed the dropped ceiling and replaced it with a full height ceiling made of wood.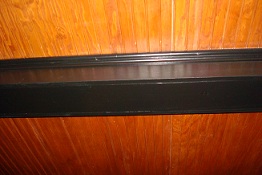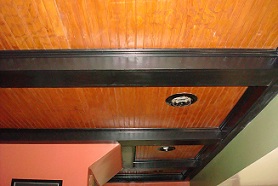 The ceiling is stained and polyed beadboard. The color is gunstock. Then we added beams and crown molding on the ceiling painted black.
Everything about the ceiling beams was custom. Hand made, nothing was stock.
The ceiling was time consuming and tedious, but worth it, because the effect is wonderful. There is over 150 ft of crown molding in the ceiling of the family room and foyer.
We have black baseboards, black fluted trim with stained rosettes around all of the doors and around the window.
We used gunstock because our stairs are that color that enter the area.
The niche I mentioned earlier for the tv is also surrounded with the same black fluted trim and rosettes. The wall behind the tv is stained beadboard. We have placed a 37 inch flat screen tv in the niche and have a built in 55 gallon aquarium below.
We decided to use a laminate floor in the family room. The reason is this- we love hardwood, but we have 2 large dogs, hardwood will not hold up with the dogs.
We choose a Brazilian cherry laminate floor, it is a perfect match to the gunstock stain used on the ceiling and builtins in the room. Of course the floor was installed last. We have a large area rug on the floor.
We have a hardwood foyer upstairs and it is going to be replaced with tile to match the basement.
The dogs nails do to much damage to real wood.
I did not want carpet. With pets the less carpet the better.
Earlier I mentioned builtins, remember the brick fireplace that was in the room? Well no more! The fireplace wall takes up one entire end of the room. So we decided to install custom builtin bookcases with storage cabinets below.
We removed the brick on both sides of the fireplace, (with a saw) Talk about a mess- it was NASTY. But we gained several inches of otherwise wasted space by removing the brick.
We installed floor cabinets on each side of the fireplace then built custom open bookcases. The bookcases match the ceiling, niche and trim in the room. Beadboard backs, black shelves, and trim.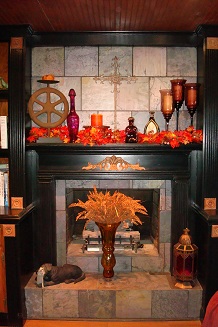 The fireplace did not have a mantle before the family room remodel. We restored an antique fireplace mantle and painted it black with a stained insignia to match the builtins.
The brick that remained was covered in slate tile. It is looks like a different wall/fireplace now.
With the builtin bookcases and cabinets we have lots of needed storage and display space for our large collection of books and decorative items.
Lighting-
We like to use things over that can be recycled. We restored a ceiling fan, painted the fan blades black and added a light kit.
We installed small can lights in front of the fireplace wall.
The foyer has 2 larger can lights.
The ceiling fan light and small can lights also have dimmers. We can turn the lights down low or up high when needed.
The walls are painted slate green on the niche wall and the window wall. They are painted brick 6 on the wall that surrounds the stairway.
The upstairs is painted brick 6 and it comes down to stairs, wrapping it around the wall was a natural choice. The color scheme works great with the tile in the open home office just off the family room.
The family room remodel project took several months to complete. We started it in the winter and worked on in every chance we could until it was warm outside.
Then as we do things, we turned our focus on outdoor projects. But we finished it by October so we could enjoy it for the cold months.
After getting the other two rooms in our basement finished we spend our time in the family room now instead of upstairs in our living room. This room has given the living room a break, which was needed.
Decorative Accessories help to tie everything together.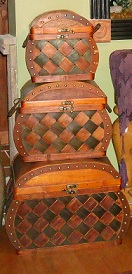 I already had the trunks in the photo on the left.
You can see that the laminate floor used in the family room remodel project matches the trunks.
Also below are valuable links to resources that can save your money on your flooring and remodeling tasks. Check them out!
Prices are Falling - Laminate flooring as low as $0.59 a sq/ft from iFloor.com!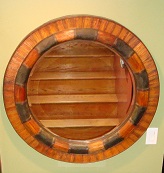 I bought the mirror in the next photo during our family room remodel.
It hangs in the foyer at the bottom of the stairs. The textures and colors blend good with the other elements used in the family room.
I love to use accessories in my decorating. I have a few to many in the photos I have posted on this page.
I will post updated photos with less accessories soon.
A few suggestions when working on a family room remodel project like this.
Wear safety glasses, and a mask so you don't breathe in so much dust involved in sawing brick or sheet rock. That is not good for you.
Take the added time to stay safe and healthy, so you will be able to enjoy the finished remodeling project.
Cover doorways and furniture with plastic to avoid alot of debris moving into the other parts of the house.
Don't use fabric - like sheets on furniture close to the construction area. Dust goes though sheets.
If you have heavier fabric items such as a blanket or washable comforter that will work. Tarps will work good too.
Share your family foom remodel project story with us! The invitation is below.
Unwind at your own Home Bar in your Basement!
Add a bar as part of your family room remodel project or even to your home office.
Shop at the links below for great prices and selection on home bar needs, wine coolers and more.
These items would also be great in a game room too!