Our Home Decorating Ideas - WILL Inspire YOU to Update and Improve YOUR Home and Garden YOURSELF
Hello, and Welcome, to www.Improve-Your-Home-and-Garden.com.
This site is all about-
Home Decorating Ideas meant to inspire and motivate you - to personalize YOUR home to reflect YOUR style.
Fall is over, the holidays have passed and it is time to snuggle up to a cozy fire and stay warm inside your home in 2012! Time flies and before you know it, it will be time for another home improvement project.
See our basement remodeling tips for a great family room remodel that includes builtins around the fireplace. This is a great cold weather project. Find the perfect fireplace accesories and more at the link below.
Are you already thinking about getting outside as soon as possible when the gardening season begins in the spring? Get gardening ideas on this site.
And the great part is- with these projects and tips featured on improve-your-home-and-garden.com, as a DIYer you can do these improvements yourself, and save lots of money!
Get the Scoop on everything that is going on here-regarding home decorating ideas, gardening and more.
Follow us on facebook too. You can do this at the top of the page.
It is always Grillin Season here at Improve-your-home-and-garden, make sure to check out our new page, all about grills, and the food you can prepare on your grill.
Shop for everything you need for a great grilling and entertaining experience! Check out our GRILLIN TIME STORE!
Now you can shop for informative and inspiring books for your home and garden projects such as
* Home Decorating Ideas *gardening ideas
* Landscaping Projects
* Home Improvements and Remodeling
* Backyard Projects *
And All the Products Needed to Complete the Jobs and enjoy them, are available at Great Prices from our Home Improvement Specialty Stores featured on the right >>>>> *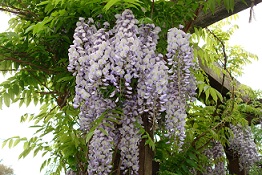 You can enjoy your outdoors more with tips on outdoor spaces, and shop for everything you need from grills, to patio furniture, garden decor and more.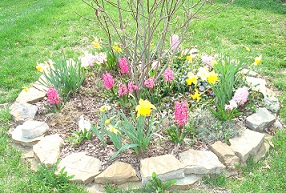 We update often, so bookmark this page and plan on a speedy return back to www.Improve-Your-Home-and-Garden.com to get the latest information.
UPDATE- The gardening season is here- make sure to check out the My Gardens page on this site, for a tour of my private gardens. You will get inspired to have your best flowers gardens yet, when you take the tour! The link is on the nav bar on the left, under the Improve Your Gardens section.
And shop our NEW Home Improvement Specialty Stores listed on the Nav Bar for everything you will need to Improve YOUR Home and Garden and Save Money this year.
People move into new places for several reasons- downsizing, job changes, relationship changes, growing families. There are lots of reasons.
Why settle for a house that never really feels like YOUR home?
You will LOVE your home when you improve it,update, and customize it yourself, to fit YOUR style. Make your house your home by putting your personal touch on it. Our inspiring Home Decorating Ideas and Gardening Tips can help.
You can do this by getting motivated with home decorating ideas inspired by our REAL life home improvement experiences. So read on to find out all about it.
Lot's of changes have been happening here - such as-
Several Home Improvement Specialty Stores have been added for your shopping convenience! Now you can Get Organized and save money on Tools ,Hardware ,Building Supplies ,Home Decor ,Furniture ,Appliances ,Electronics ,Gardening Supplies ,Outdoor Decor , and even Books ! The links to the Specialty Stores are on the right side of this page>>>>>
I have lots of recommendations for your reading pleasure such as the books shown below. You will see these recommendations on various pages of the site.
**NEW - I have moved our Rented Mule "Home and Garden store" to this site. Make sure you find out what we have to offer. We have Scrappy Signs by Rented Mule and seeds from Freda's Favorite Flowers, and alot more! The Home and Garden Store is growing daily. New items include garden benches, accent furniture, home and garden accessories, fireplace screens and more. Notice the Exclusive Decorator Tips featured with these Home Decor Items. They are meant to give you more Home Decorating Ideas.
The Rented Mule "Home and Garden Store" link is labeled- Shop-Our Store and it is of the nav bar on the left. The Scrappy Signs link and Flower Seeds links are located below the Shop - Our Store tab. Shop with confidence because we offer Paypal as our payment method.
And you can buy gift Certificates thru Paypal for shopping in the Rented Mule Home and Garden Store! It doesn't get any easier than that.
In addition to lots of home decorating ideas, this site is full of tips on doing all types of home improvement projects. Lots of photos (100's) have now been added recently to the pages through out the site. So now, you can really understand the topic on the related page.
The photos shared on this site, are from our own projects! Looking back I can tell you we have been busy improving OUR home and garden for sure!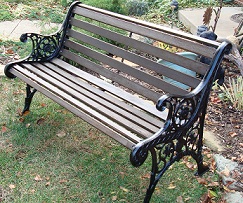 Projects to inspire you include, but are not limited to - restoring a Garden Bench
as shown above, a complete basement remodel which invloves- adding a home office in your basement, and updating and renovating your family room, even redesigning and relocating a laundry room.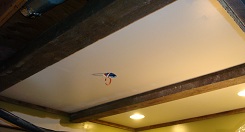 The photo above shows antique reclaimed Kentucky barnwood
beams being installed in the ceiling of our new home office
.
We offer some unique home decorating ideas with reclaimed barnwood. Our home office is an example.There are detailed photos on how to do lots of projects that will help you Improve Your Home And Garden
.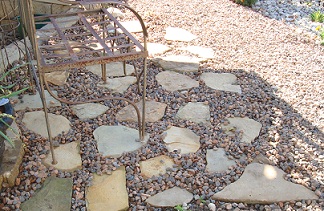 I also provide details on Seasonal Home Decorating Ideas
, decluttering
,barnwood decor
, building a pergola
and more. These ideas include home remodeling, decorating and outside projects such as landscaping, gardening, and creating outdoor rooms.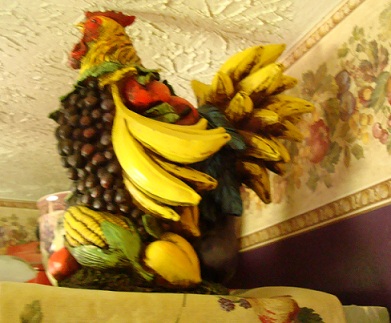 Find out the story about the Rooster
above in our new Kitchen Decor Themes page. Now you can even shop for Rooster Decor for yourself at our Rooster Decor Store, one of our Specialty Stores I mentioned earler.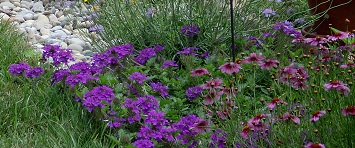 You will want to visit often when you are looking for home decorating ideas, or ideas for remodeling your home and more or even when you are shopping for your home and garden!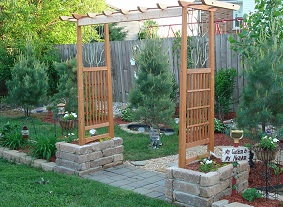 The photo above shows a pergola at the entrance to our secret garden. Find out more about creating your own special backyard retreat on the secret garden page.
If you have arrived at Improve-Your-Home-and-Garden.com in need of inspiration, you are at the right place.
My goal is to inspire you to try new ideas to make you happier in your home environment.
I promise to OVER deliver lots of home improvement ideas, decorating tips, gardening ideas, landscape projects, etc. to get you motivated and inspired.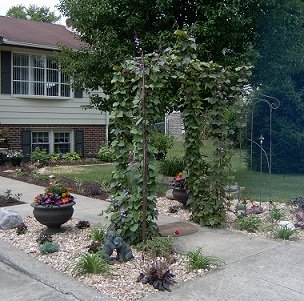 You will discover many money saving tips on lots of REAL Projects that we have done ourselves to our home together and to homes we have owned separately in the past.
We have had lots of experience in many aspects of home remodeling, decorating and landscaping. And we are very detail oriented. We customize our projects and our home.
Now, I look forward to sharing these experiences with you. These home improvement projects are sure to get you thinking.
Then, I want to encourage you, to get your hands dirty and dive into some of your own home and garden improvement projects- NOW.
And-
When the dust settles, and you have completed your own list of improvements, you will have a great sense of pride in your accomplishments and finally have a home and garden that you love.
And-
You will really get the most out your surroundings because your home will be perfect for you, and your family. Not just a house you live in. Get, busy and get - the most out of you home.
Imagine the thrill -
You won't be able to wait to entertain your friends, and see how impressed they will be with you new skills.
Nothing is more rewarding than doing a good job yourself, learning new skills and saving money while you do so.
Are you Ready? GOOD! Now Browse the site, there is alot to see,
then - get your favorite comfy work clothes on because
It is finally time to - Just Do It! Let's move on to get started Improving YOUR Home and Garden - Now!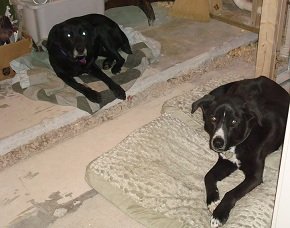 The photo above shows our 2 dogs, CJ and Bronco, in the middle of the basement remodel construction area, while we were renovating our basement. They are affectionaly referred to as our crew chiefs and project managers.
Check out the links through out the site for valuable savings on all the things your need for your home, garden and pets!
Enjoy the site, and I hope you get inspired and motivated by our home decorating ideas and outdoor projects, to improve your home and garden yourself, too.
And when you do make your own improvements tell us about it! At the comment pages and links placed through out the website.
Make Money Working From Home, work for yourself, these products can help
Our GRILLIN TIME Store has 1000's of items to make your outdoor cooking experience fun!
Shop the stores on this site for great value and products to Improve Your Home And Garden
Red white and blue decor items, ideas, and products for your home and garden
Find great buys at the Clearance Sale on Home and Garden items, Hurry Limited Time Offers Changing Daily!
Shop our Backyard Living Store for everything you need to create the backyard of your dreams!
Shop for the birds, at the new RentedMule - For the Birds Store
Get great deals on windchimes for your home and garden
Backyard Projects that will Improve your Home and Garden and Your Outdoor Enjoyment
Creative ways to get the backyard privacy your need
Get the full enjoyment of your back yard with outdoor rooms for individual needs
An Outdoor Kitchen Improves your Outdoor Experience
A Secret Garden is a Great Place to Relax after a hard day.
Find out how you can build a natural stone patio yourself, for under $100.00
An outdoor fire pit is a great way to relax in your backyard during cooler months.
Safety suggestions for DIY projects for your home and garden
Start with the Front Door as the first step in improving your home and garden and adding to great cub appeal
The importance of curb appeal, to your home and property value
Suggestions for improving your decorative outdoor lighting, for added curb appeal and safety
Use these side yard ideas to transform a dull boring area into a favorite place in your garden
Landscape walls make great flower beds and more
Build a Stone Border around your Landscape and Flower Gardens, see How You Can Do It Yourself!
Remove A Pine Tree from your front yard landscaping if it has out grown the space and hides the house.
Suggestions for better curb appeal by improving your front yard landscaping.
Use natural elements in your landscape decor, such as rocks and tree stumps, get ideas here!
Your winter landscape can be beautiful and interesting too!
Flea Market Finds in your Landscape - Use these Creative Ways to Express your Decorating Style
LIMITED TIME OFFER -EARN FREE FLOWER SEEDS WHEN YOU SHOP OUR HOME IMPROVEMENT STORES!
Shop for Garden Seeds, to get your Garden Growing Now!
Shop for Garden Benches, and Accessories for your Garden
Shop for flower seeds from Freda's Favorite Flowers, to start you garden on a budget
Shop for YOUR Garden at Our Home and Garden Store
Our Garden Supply Store offers everything you need for a Gorgeous Garden that will make you proud!
Shop for Garden Decorations such as outdoor furniture, accessories, and more
Our Gardening Books and Kindle Ebooks , are highly Recommended reading for anyone interested in Gardening
Shop at the Lexington Peddlers Mall, to find lot's of Treasures
This plant zone chart will give you handy tips about when you should plant your flowers, and vegetables
The joy of Gardening is so relaxing and filled with surprises
Take a tour of my gardens, and get inspired to create your own favorite place to be
These Spring Gardening Tips are informative, and fun!
Try planting seeds indoors for a longer growing season, on a budget.
Check out how we use Wrought Iron Decor in our Gardens and Landscape
Enjoy this Gardening addict article about some serious Gardening! Can You Relate?
Learn how you can build flower gardens in you landscape for free!
See how to make a flower bed that will get better every year!
Build a Greenhouse, and enjoy year round gardening!
Gain privacy , add color and enjoy your new cottage garden
Perennial Flowers and Annual Flowers - the Benefits of Each Type in you Flower Gardens
Moving a Garden Shed, Phase 1 of our NEW Garden Shed Project
See how we created a shade garden at what used to be a side yard
Try these fall gardening chores, to make your home and garden ready for the cold weather ahead.
Shop for Candles and Holders for your Home and Garden
Our Home and Garden Store features product manufactured by us and many hard to find items to improve your home and garden.
Shop our Furniture and Home Decor Store , another way to Save Money and Time!
Home and Garden Accessories that function great inside the Home or outside in the Garden!,
Shop for YOUR home here, at our home and garden store
Shop online for the home improvement tools your need for your projects
Our Country Style Decor collection is perfect for a laid back casual lifestyle
Our Kitchen Store is stocked and ready for your cooking needs!
Our Rooster Decor Store offers plenty of colorful accents for your home and garden!
Shop for Window Treatments including curtains, shutters, drapes, roman shades and more
Useful Attic Storage space, can open up your closets and garage for better function, find out how we solved our storage problem!
Spring Cleaning Tips, to inspire you to go beyond just the boring cleaning tasks.
Declutter your home. It is a very important way to improve your home and garden.
These weekend projects can update your home inside and out
Use Architectural Molding to complete the design of a room
Decorating with color is a quick and easy way to express YOUR Personal Style in YOUR Home
Shop Our Appliances and Electronics Store for some great deals on name Brand Items for you and your home
Our Kitchen Remodel Ideas will inspire you to update your dated kitchen Yourself
See how Rooster Decor for a Kitchen can add Color
Follow these home staging tips to sell you home quickly!
Less is more, when you declutter, open up walls, and update your home with these ideas
See how we restore furniture and bring it back to life!
Consider a basement remodel, to make you living space feel larger.
View our basement remodel photos here, to get more details of our projects
A family room remodel could add excitement to a drab room
Update with a Laundry Room Remodel, in your basement or main floor
Create a Basement Rec Room with these Ideas and Supplies to create your favorite place for relaxing at home
We made our home office, work for us, see how.
These Holiday Decorating Ideas will Inspire you to Decorate for the Holiday Season!
Improve you Home and Garden with these Seasonal Decorating ideas
Try these Fall Decorating Ideas at your home to celebrate the season!
Use these Halloween Decorating Ideas for a fun, and Spooky Halloween
Get your Halloween costumes NOW! and Save
Read this article I wrote about Fun and Functional uses for Barnwood
Recycled barnwood decor can be used in your home or garden to add rustic charm
Order Your Handpainted Custom Scrappy Signs by Rented Mule here
Shop for Scrappy Signs by Rented Mule. All Signs are made from Reclaimed Antique KY Barnwood
See how we build a potting bench out of reclaimed barnwood, that doubles as a workbench
Scrappy Signs for your garden, made from reclaimed antique KY Barnwood
Learn how to build a Pergola to support Wisteria, or any other climbing plant. And get a porch swing support at the same time!
Build a raised bed garden out of materials you have leftover from other home improvement projects
Find one of a kind handcrafted barnwood crafts by Rented Mule, limited quanties, while supplies last!
Share your success stories and photos about stone borders in your landscaping
Read these published articles about DIY Home and Garden improvements
Share you DIY Project ideas with us, and I will post them on this site
Leave a comment, share a story, share photos, express your thoughts, Connect with us and more
IF you have a question you can contact us here
Go to this page view links to other website that offer helpful information or services to DIY homeowners
Share your thoughts about backyard projects comments here
Do you have a pergola? Share your comments on the one featured on this site, tell us about yours
Let me help you, ask me a question about a project or product needed to complete the project, I offer this service to my visitors
Shop our Book Store and Save money on all types of Books and Magazines
Ebook Directory and The advantages of ebooks
Get lots of Ideas with these informative Home Books
These are Start Your Own Business books, designed to inspire you to turn your crafts, hobbies, and passions into a Real Business!
With these home and Garden books,You can Find exactly what your are looking for to help with YOUR Projects
Craft and Hobby books that will educate you about YOUR favorite leisure time activities!
Create Solar Energy and save money on your electric bills
Woodworking can become a favorite way for you to improve your home
Organization tips help to around the house
Wanna have a Fab Job? Sure you do, everyone does, these guides can get started in the right direction!
I hope you enjoy these Pet Photos of our precious Family Pets that I mention Working With From Home
Shop for YOUR Pets on this Page of Our Home and Garden Store
Own Your Own Business, and work from home, be your own boss, with an SBI Web Business
Find out My I love my SBI web Business
About me, and Why I find "Self Employment Self Empowering" Working from Home on my Web Business
Using Moringa I have lost 22 lbs in 7 1/2 weeks!
This Sitemap will take you to each page of this website
Use this Sitemap page 2 as you navigate the site
Would you like to share your knowledge about home decorating ideas? Great, find out how you can submit your story or tip here.