Fun Fall Decorating Ideas, that will add Color and YOUR Style to YOUR Home and Garden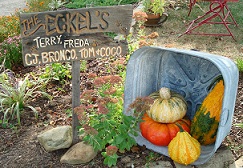 Try these fall decorating ideas to personalize YOUR home and garden to reflect YOUR style.
YEAH, it's finally fall, So now it is time to do some decorating for the season. I just love this time of year!
I put alot of emphasis on the word YOUR because that is what is DIY home improvement site is all about.
If you notice the first photo above it shows a sign I have displayed in my front yard. This is actually a campsite sign I made out of antique Kentucky barnwood. The colors are perfect for fall. I am using it as a family sign.
The galvanized tub beside of the sign (a recent treasure I found at our local peddlers mall) is filled with fall harvest items of gourds and pumpkins. I found those items at a local apple orchard.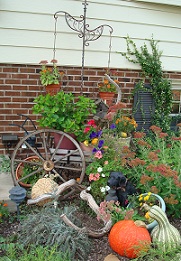 The photo above shows the way I have changed my landscape beside my front door for fall this year. I try to come up with new fall decorating ideas each year.
I added a wagon wheel, buried a few flower pots and turned them on their side, added colorful gourds and squash and a pumpkin.
I also added a shephards hook behind the wagon filled with flowers and a rustic birdhouse.
The flower pots hanging in the shepards hook contain mums and sedum started this summer.
I just topped the plants and put the tops in the flower pots. As you can see they survived and are blooming.
Now I have new flowers for free.
I will need to plant these new flowers in the ground in a few weeks.
You can make your home and garden stand out in your neighborhood by reflecting your personal style too - in the way you decorate and improve your surroundings.
Most of the time the improvement bug travels to other homes on the street.
This is because your home and garden improvements inspire others to take a good look at their homes and make needed changes.
Before you know it, the whole street is looking better.
These fall decorating ideas on this page are a fun and creative way to celebrate the seasonal harvest. Do this by displaying pumpkins and gourds in your fall landscape.
The photo below shows the combination of green and purple colored foliage in my front yard landscape. See the subtle addition of a single bumpy gourd in the corner.
The plants you can see in this photo are - Persian shield center (annual), green and purple sweet potato vine(annual), elephant ears (annual), and corral bells(perennial).
The rock border still shows up good when the plants are dormant during cold months.
Join Our Mailing List
Sign up to get our FREE Improve your home and Garden Newsletter below. Periodically, I will send you valuable information to help you with your home and garden projects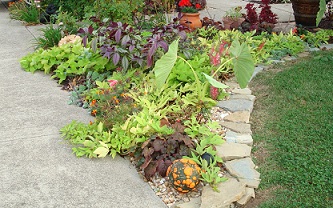 The photo below shows a row of gold and bronze mums in bloom in my side yard.
These mums were split this spring. I have new mums in lots of other flower gardens in my landscaping from these originals.
Dividing perennials is a good way to save money on your gardening budget.
There are rose bushes in between the mums in this flower garden.
Another fall decorating idea - is place mums in flower pots after you annuals have started to need to be replaced.

While using these fall decorating Ideas, also find out how to improve your garden with these fall gardening tips.
Let's do some Fall Decorating Outside
This page is going to be focused on outdoor fall decorating ideas. So let's think about ways to optimize our outdoor fall decorations.
After or during your fall gardening chores and cleanup routine, fill in the gaps in your landscaping with some colorful pumpkins and gourds.
If you get them after the weather cools down some they will last until Thanksgiving.
By then it will be time to decorate for the holiday season anyway. So they are a good value because of the amount of time your can use the,
As annual flowers fade away and have to be removed this gives us an opportunity to add some new flowers such as mums to the landscape.
Buy Perennial mums so you will get a better value for you money. As they grow to get large, divide them to have even more plants.
Decorating with pumpkins in your fall decor will allow you to be very creative.
Use a variety of sizes and shapes of pumpkins and gourds to get a unique look in your fall decor.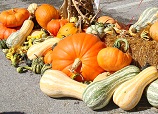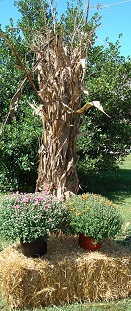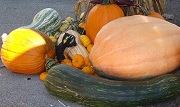 As you can see in these photos- fall decorating ideas that include pumpkins and gourds certainly add the fall colors to the display.
Fodder shocks (dried corn stalks balled together) with bales of straw and mums are all natural additions to compliment your fall display.
Add the color purple to your fall decor for a pop of color. Purple and orange look great together.
Yellow mums show up great as your can see in this photo.
You can't decorate for fall without showing off lots of orange in accessories like this orange birdhouse shown in the photo below right. It is placed in the center of 3 mums.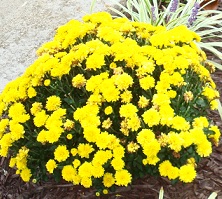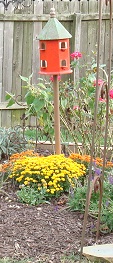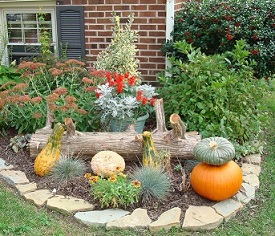 This photo below shows colorful bumpy gourds and pumpkins displayed in a flower garden of various perennials including sedum and grasses with shrubs.
Notice the log in the background. This picture was taken right after we added several pieces of cedar to our landscaping. We still have it there 2 years later and it looks great.
We collected the cedar pieces from a fallen tree after a wind storm at a family members home.
If you notice in the photos of our landscaping there is alot of stumps, logs and twisted branches used through out our gardens.
Wooden pieces like this add natural interest to the landscape while the plants are dormant. They also provide visual appeal and break up a big area of plants.
We collect odd pieces of wood during our travels and have fond memories of the trip when we think of where the item came from.
Find out more about using natural elements such as logs, rocks, tree stumps and more in your landscape decor here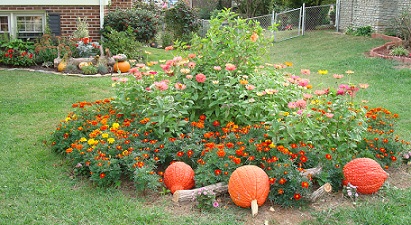 The photo above shows three bumpy pumpkins in the flower garden I created after removing a over grown pine tree from my front yard 2 years ago.
I later removed the zinnias from the center of the flower garden and added straw, 3 fodder shocks tied together and more pumpkins and gourds along with my Halloween decorations.
See the link below for Halloween decorating ideas.
Get creative and use your imagination with these fall decorating ideas.
Try stacking several sizes and colors of pumpkins in stacks together. Use the flat variety of pumpkins for this unusual fall decorating idea.
Shop at farmers markets, apple orchards and department stores for your pumpkins and gourds. Garden centers will have mums.
I shop at a local apple orchard for my harvest decorations. They are fresher and last longer.
With fall comes Halloween, I have some great Halloween Decorating Ideas here to share with you, check them out!


I have more Seasonal Decorating Ideas here, this includes indoor and outdoor ideas for each season and holiday.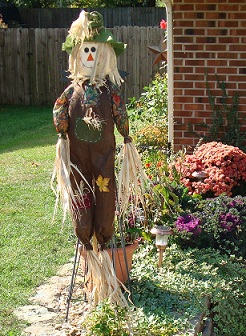 Make sure you add scarecrows to your fall decor. I use this one in my front yard.
You can also make a scarecrow for your fall landscape.
Take 2 long peices of wood. join them together with a screw. At this point you have a cross.
Add a head - made from a gourd (sold at farmers markets). Add hair and hands made out of raffia. Draw a face on the gourd. Tie the gourd upside down to the top of the wooden frame.
Dress in some clothes that you find fun. Bibbed overalls, are a great choice.
Add a hat.
If I make one this year I will add a photo.
I hope you have fun trying these fall decorating ideas in your landscaping this year.
Make it a annual event, shop for your pumpkins, gourds, fodder shocks, mums, straw and more
This is a photo of my shopping cart with my purchases in it from Evans Apple Orchard this fall.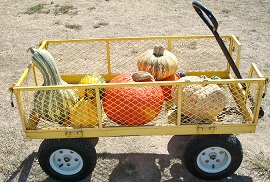 Each year my husband and I visit Evans Apple Orchard, Georgetown KY to shop for our fall decorative pumpkins and gourds.
We have been doing this for about 4 years.
I have posted a few photos below of the great selection of fresh pumkins, gourds, mums, etc that they have to choose from.
Shopping for these items at a local source like this ensures that you are getting fresher merchandise.
And it is so much fun to see the variety.
At Evans Apple Orchard you can bring the family and stay for hours. They have events there each weekend thru fall.
They even serve lunch. I tried the pulled pork sandwich...Yummy!
My point here is, if you live in Lexington visit Evans Apple Orchard for you real fall decorations.
I have purchased mine from department stores in the past and had to throw away pumpkins very quickly because they rotted.
That is a bad value. Shop Locally.
Wherever you live -give you local farmers market and farms a visit.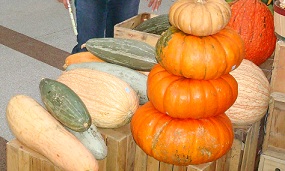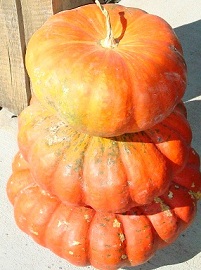 Enjoy the photos of fall decorating ideas below of fresh pumpkins, cushaws, gourds and mums from a local farm.
These items are in abundance during the fall season and can be used in lots of interesting ways.
Try placing a variety of gourds and pumpkins in baskets, or buckets turned sideways. Some of these ideas can be used indoors as well.
When using these fall decorating ideas, take pictures of your displays to have something to remember how your decorations look, so you can keep growing your ideas each year.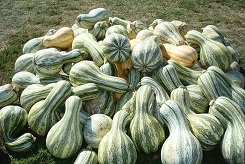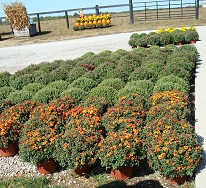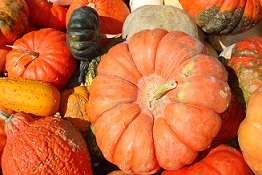 Have A Great Story About This Topic?
Do you have a great story about this? Share it! Do you decorate for the Fall? Tell us your story. Then I will share it on this website!
What Other Visitors Have Said
Click below to see contributions from other visitors to this page...

Gourds, Pumpkins, and Owls- Oh My! Not rated yet
I think Autumn is such an easy season to decorate for and to me it's the most fun. The reason is because I like gourds and pumpkins and the vivid colors …