Shop the Rented Mule - For the Birds! Store
Do you enjoy birdwatching? This
Rented Mule - For the Birds Store
will provide you with all the supplies needed to make sure that you attract the types of birds you enjoy in your flower gardens.
Enter the Rented Mule For the Birds! Store
When you grow beautiful garden you usually attract alot of birds.
Birdwatching is a relaxing experience.
The birdhouses
, birdfeeders
,bird seed
, bird baths
, and accessories offered in our Rented Mule For the Birds Store, provide limitless possibilities for your feathered friends.
Start a collection of birdhouses, and related "bird products today!
You can even read all about the birds too because I have included a huge selection (over 90,000!) of bird books
too.
Squirrel Proof Bird Feeder
Product Description
I love squirrels, but - No beaks, no feathers, no service. This birdfeeder reserves the right to refuse seed to pesky squirrels for uninhibited bird-watching all year round.
The Super Stop A Squirrel Feeder is equipped with spring-activated ports that close under the weight of squirrels and large, uninvited birds.
The feeder is designed with a heavy duty steel hanger for optimal stability, which is important considering this unit's 11-pound (2-gallon) seed capacity. The unit mounts to a 1/-1/4-inch pole with the included mounting clip (pole not included).
The feeder can also be post- or tree-mounted with mounting hardware included. A large seed window shows seed levels for timely refills. A removable seed bin means easy filling.
Side/storm panels shield birds from wind, rain, and snow as they dine. Made of heavy-duty, rust resistant galvanized steel, this feeder is built to last. A durable forest green finish blends with the trees. So the feeder does not stand out, but the birds it attracts do!
Recommended Reading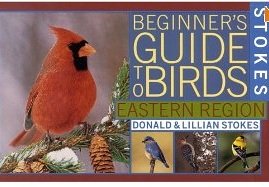 Stokes Beginner's Guide to Birds: Eastern Region (Stokes Field Guide Series)


Product Description Is that butterfly outside your window a Monarch or a Giant Swallowtail? What's the best kind of feeder for attracting birds to your backyard?
This pocket-size, brilliantly colorful, simple-to-use guide is an ideal introduction to the birds of the Eastern United States.
It contains dozens of full-color photographs that enable readers of all ages to identify the most common species; range maps; tips on attracting and observing firds; information on habitat needs, life cycle, food preferences; and much more.
Enter the Rented Mule For the Birds! Store below
Click on any link to enter the store, then do a search for the items you are looking for. Or browse around, there is alot to see!