Share your DIY Project IDeas on this site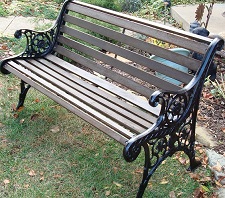 This is your opportunity to share DIY (do-it-yourself) home and garden ideas with the visitors of this site.
So you have a home or garden improvement that you are really proud of? Tell us about it.
Have you remodeled a room, added on to the house, built a deck or patio, added an outdoor kitchen, or some other improvement that would be of interest to others? Lets hear about it, and see it! Maybe you have restored an old garden bench like the one shown on this page. Or some indoor furniture items have been given a new look by your hands. Let us know, share your knowledge.
And if you happen to have a website that you want to share leave the link to your site too! That is my thank you, for you taking the time to share your ideas with the visitors of www.improve-your-home-and-garden.com for sharing.
Share your experiences, suggestions, tips, and make sure to include photos to make the project more appealing.
I want to hear from you!
What have you done lately? Tell us about it here-
Share Your DIY Project Story and Ideas Here
Have A Great Story About DIY Projects?
Do you have a great story about DIY projects that you have done? Share it!
COPYSCAPE