Published Articles I Have Written about Home and Garden Projects
I have written several published articles about DIY Home and Garden projects, for websites such as Hubpages, Examiner, and Ezine Articles.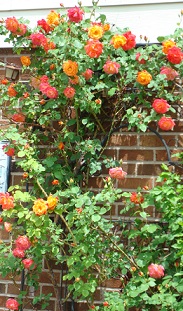 The articles include lots of ideas and information that you could find helpful.
I am including the links to the these articles on this page, so that you can follow them,(please do) and get regular updates on articles as they are written.
I would really appreciate it if you would share them with your friends on facebook, twitter, or any other social networks that you enjoy. Visit any link for information on how to "like" the page and share it.
You can also share the pages on this site as well, by scrolling down to bottom of the page, the "share this page" information is simple.
I hope you enjoy these articles, and find them helpful as well as inspiring.
I am also looking to linking partners to this site, if you are interested in linking to this site use the contact us form And one final thing, please follow us on Facebook.
Thanks!
Links to Articles
Hubpages Articles
DIY Create Your Own Backyard Retreat

DIY Create Better Backyard Privacy

DIY Build a Rustic Potting Bench

DIY Make Flower Gardens Starting from Seed

DIY Quick Start for Container Gardening

Build Stone Borders Around Your Landscaping for a Natural Look

Curb Appreal Transformation from Boring- to Beautiful DIY

DIY Celebrate Summer with Americana Decor in Your Gardens

DIY Tips for Displaying Flea Market Finds in Your Garden

DIY-Using-Recycled-Barnwood-in-Your-Home-and-Garden

DIY Gardening Know when to Plant Flowers in Your Area

DIY Restore a Garden Bench

DIY Improve Your Home And Save Money

DIY Use Tree Stumps, Branches and Stones as Landscape Decor