Here are some of Our Favorite Pet Photos for Your Enjoyment
There are multiple reasons why we spoil and take care of pets. Studies show that there is health benefits associated to owning pets.
Pets Help to Lower Blood Pressure
Pets Help to Reduce Stress
Pets Help to Prevent Heart Attacks
Pets Help to Lower Health Care
Pets Help to Fight Depression
So having pets in our lives, improves our lives!
Don't Miss our Recommended Reading Books at the Bottom of this Page!
I get to work this with precious animals each day now that I work from home on my web business!
Find out more about how you can enjoy working from home with your pets, with your own web business here
Shop hundreds of products to fit every style and budget at DogHouses.com!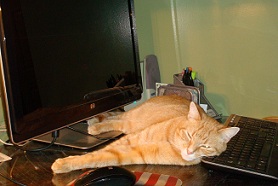 Browse this page to see our pet photos. I love to take pictures of our pets.
Each day as I work from home, in my garden or in my home office I have the privilege of lots of moral support, love ,affection and supervision from our family pets.
If you have a story about working with your pets share it with us. The invitation is at the bottom of this page.
The pet photo above shows our cat Tom. Obviously he has exhausted himself with a hard day's work at the office.
And if you have pets that you feel you are not getting to spend enough time around - consider working for yourself. I took the plunge, made the decision and I love working from home and building my own business.
Find out all about how you can have your own SBI Business.
Have A Great Story About Bringing your Pets to Work?
Do you bring your pets to work? Or work from home with your pets? Tell us about it! your story and photos will be featured on this website.
The photo below shows our TOP DOG - CJ - hard at work in our home office, supervising.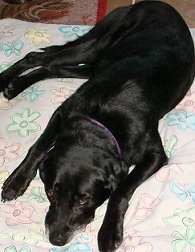 We have 2 dogs, CJ and Bronco. CJ (nicknamed C DOG, etc, etc,) is almost 10 years and is a black Labrador retriever.
She is definitely the alpha dog. Terry had her before I met him and she is a daddy's girl.
Bronco(nicknamed B Dog, B Dub, chance of rain etc, etc, ) is 4 yrs old, he's a rescue dog, he is border collie, Labrador retriever mix. Bronco was abused before we adopted him from our local shelter.
Bronco is nervous around strangers. We adopted him when he was 14 months old. He is a wonderful addition to our family. Bronco is a mommy's boy.
We love them both dearly. They travel with us on camping trips, vacations, and on days out to the park. We have a conversion van referred to as Bronco and CJ's tour bus.
ValuePetSupplies.com-Supplies for All Your Pet Needs and Supporting Rescue Pet Adoption


The pet photo below shows Bronco and Tom relaxing together. Tom is tucked in under the cover to the corner on the right.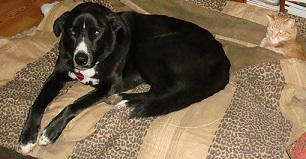 Pretty Puff, She is lounging on the chase.
Coco Puff is her full name.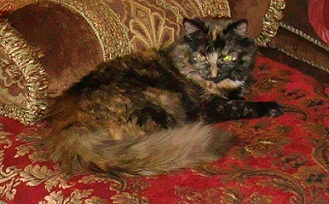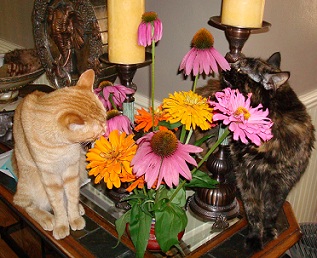 The Pet Photo above shows Tom and Coco taking time to smell the fresh cut flowers I had brought inside.
We have 2 adult cats Coco Puff also nicknamed(puffer,sweak,) and Tom,(nicknamed Tom Bomb, T Bone, Thomas, The Tomanator).
Coco is a female tortoise color (black and gold) long hair and tom is a orange tabby. These cats are indoor cats.
My husband found CoCo under the wheel of a car at a job site. He was leaving to come home and looked down and there she was. She was probably about 2 months old at the time.
CoCo had several health problems at the time due to neglect, but quickly grew into a gorgeous healthy cat. She is very lucky Terry found her. And we are very happy to have her in our lives.
Tom is a cat that I got from a former co worker. I named him Tom in honor of my all time favorite cat from 25 years ago. He is a wonderful cat with lots of personality.
All of our pets are very loving and precious to us. As you can tell we have given all of them several nicknames. They know all of them.
We have a fish aquarium in our office too, so we are surrounded by some type of pet. The aquarium has 12 assorted fish - happy to be there. The cats love to watch the fish.
As you can see in the pet photo below, Tom has a hungry look in his eyes after staring into the fish aquarium!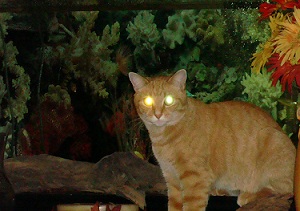 The next 2 pet photos below shows our latest additions to the family!

We have Twins!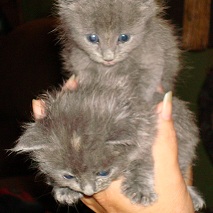 The photo below is another shot of Taz and Tig. They are such a delight. So cuddly and loving. Already purring and using their litter box.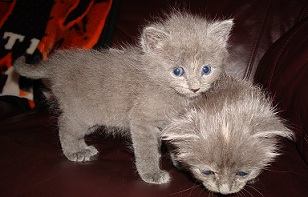 The latest addition to our pets is a set of twins! Recently my husband surprised me with 2 - 5 week old gray long haired kittens. See pet photo above.
Tigger is on top and Taz is on the bottom. Taz has the tiny yellow spot on his face.
At this point their sex is undetermined because they are so tiny.I think Taz is male and Tig is female. It does not matter, we will take care of that later to make sure they can't have kittens.
Talk about adorable oh my! 2 little blue eyed furballs that are so precious. Terry got them from some nice people advertising them on craigslist.
I had been wanting 2 cats for outside for a long time. He got these and brought them home to me as a surprise. I was in tears. I just love him for that! When we build our new garden shed Taz and Tig will have a nice place outside.
The new garden shed is another one of our many outside backyard projects in the works.
Until then I guess they are house cats....humm nothing at our house has ever been a real outside animal. So we will have to see about these too as well.
We have a big fenced in backyard so it is a safe place. But we seem to have an open door policy here for all of our pets.
As I write this Taz and Tig are in a basket in the floor of my office beside of me.
Bronco is checking them out. (He was supposed to be an outside dog too)....we nicknamed him Chance of Rain, so guess where he sleeps at night...
Maybe I should just consider these new additions office cats.
It is amazing, but all of our pets get along with each other great. That is wonderful.
Below are more of our pet photos for you to enjoy.
I encourage you to bring your pets into your workplace when you can. It is relaxing and helps to make the work day seem less like work.
Hang pet photos in your office too. They make great conversation pieces and fond memories.
The pet photo below shows Taz on (her) favorite place in our home office. She is now 6 weeks old and likes to lounge on the dog bed at Terry's feet.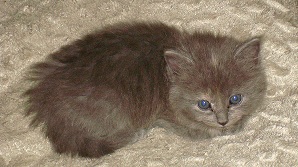 Find out more about working from home here
The pet photo below shows Tig drinking from the water bowl in the office. He is 6 weeks old in the photo.
Tig at the water bowl. Move over big dogs, a new (big) cat is in charge!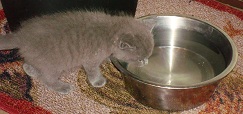 The photo below shows - Tig Belly Up
Ok it is official the Cat is spoiled.
He gets to lounge in our home office, and I have to work. There is something fishy going on here!
This pic gets my vote for the cutest pic ever!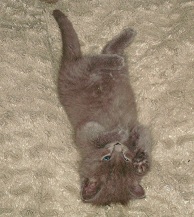 Judging by this photo below, I would guess they are both SPOILED!
Tig is resting belly up and Taz is leaning against the wall of the desk.
They have a hard life, I think not!
Sweetest things come in small packages, I love my new baby kitties, I can almost watch them grow.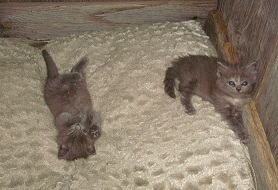 The pet photo below shows Bronco in his tour bus, ready to go Bye Bye.
Both dogs get very excited when they get to travel.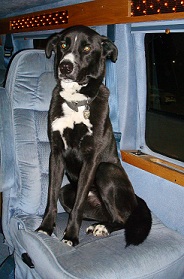 The pet photo below shows CJ coming up our stairs to the Deck. She gets around good now that she takes pills for her joints.
Labs have hip problems as they age, try the over the counter joint medications, it really helped her.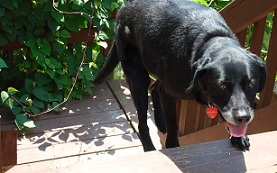 In the pet photo below Bronco is resting outside in our backyard.
He is the fastest running dog, Sometimes I think he has wings!
He does hurdles over the backyard landscaping.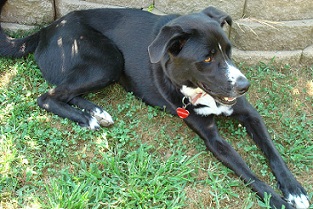 The pet Photo below shows Tom and Terry, my husband. When Terry gets horizontal, Tom quickly follows.
Terry is great with all animals.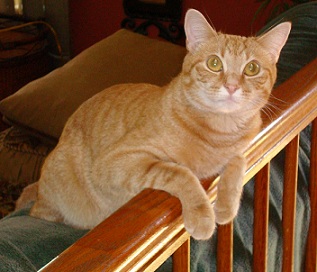 The photo above shows Tom resting on the stair rail.
How's that for a perfect pose? He enjoys having his picture taken. He is so handsome, and he knows it.
This cat loves to be around running water.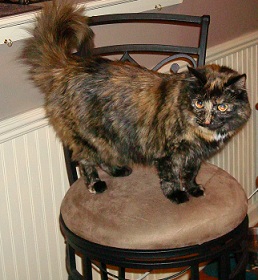 The pet photo below shows Coco, She sometimes looks like an owl. She is the beauty queen of the household.
Very sweet cat, and gorgeous as you can see!
The photo below shows Bronco and CJ play tug o war. When we go outside the dogs start putting on a show for us. It happens everytime. I guess they like having an audience.
Bronco attempts to play tug o war, CJ never turns loose of the toy. They play very well together.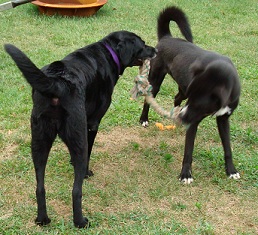 Recommended Reading
Check out these Pet Training and Behavior Books below, so Everyone in the Household is Happy!
~~~~~~~~~~~~~~~~~~~~~~~~~~~~~~~~~~~~~~~~~~~~~~~~~~~~~~~~~~~~~~~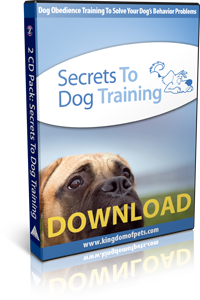 Secrets to Dog Training
.
Who else wants their dog to be well behaved around people and other dogs?
AND have them obey all of your house rules... ... even when you're not around! Click Here!
~~~~~~~~~~~~~~~~~~~~~~~~~~~~~~~~~~~~~~~~~~~~~~~~~~~~~~~~~~~~~~~~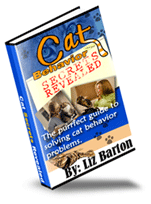 Cat Behavior Secrets Revealed
"Discover How To End Cat Behavior Problems Fast" Click Here!
Do you have a cat that is:
•Ignoring the litter box and instead peeing and pooping on the floor, your bed, your bathtub, or anywhere else they shouldn't be
•Biting you, your children or your guests unexpectedly
•Scratching your couch, bed, and other furniture?
•Digging in houseplants
•Fighting with other cats in your household
•Keeping you awake at night
•Just plain misbehaving?
~~~~~~~~~~~~~~~~~~~~~~~~~~~~~~~~~~~~~~~~~~~~~~~~~~~~~~~~~~~~~~~~

As you can see from the photos above we love our pets. One of the wonderful things about working from home on my web business is getting to spend so much time around them.
You can share your Pet Photos online too, when you have a web business with SBI too, find out more here