Use Moringa Products to help You lose Weight and Feel Better
Increase Energy and Feel Better
Using the all natural herb - Moringa can help you lose weight, increase energy and improve your overall health in other ways too. It is an all natural herb that is full of nutritients. Sometimes referred to as "the miracle tree".
See the informative books and products below.
NOTHING TASTES AS GOOD AS GETTING THIN FEELS!
I HAVE LOST 22 LBS IN 7 1/2 WEEKS USING MORINGA PRODUCTS
I know this is not seem relevant to the main topic of this site, but if you want an active lifestyle of being a DIYer and gardening, lack of energy, and being over weight can hold you back from getting the project done, or from even starting it at all.
I have struggled with my weight for my entire adult life. I have lost weight before when I was in my 20's only to have it creep right back up over the years to the point I know it is dangerous at my age.
There are alot of health issues related to being overweight. And my parents are both elderly and in poor health, So I don't want to increase my odds of having health problems too.
Being over weight increases the chances of becoming diabetic, having high cholesterol, and high blood pressure, all of which runs in my family. These health issues can cause a heart attack or stroke too.
I heard about this herb thru a dear friend that is also concerned with health problems. It is available thru a network marketing company that she works with. I found the moringa products another way and saved alot of money. You may want to do the same method. Just follow the links on this page.
Books about Moringa
I tried the products from the network marketing company for a few days, but the costs were out of my reach. And I am not into network marketing, I have a full plate with my SBI web business.
So I decided to do some research and see if there was another way to find the moringa products. A less expensive way. I have added links on this page for your convenience.
Of course the brand name is different, but so is the price.
I have created a store so that visitors to this site can order the products without pressure from distributors trying to get them to join in on the MLM aspect.
Both products are available in the store I have created, so you can do the price comparisons and determine what is best for your needs.
Below is the link to the Moringa Products and Diet and Nutrition Store.
Do the research onine by googling Moringa, or reading the books above, if you would like, to find out all about the many health benefits of adding Moringa to your diet.
Save money when buying the products here. and remember this -
NOTHING TASTES AS GOOD, AS BEING THIN FEELS!
Someone told me that years ago and I have never forgotten that phrase. I can tell you, I was so happy to get the first 10 lbs off that I don't ever want gain it back. I used to drink 4- 6 cans of diet coke a day. Now I drink 0. And I don't crave it either. I tried it a few weeks after dtarting my new weight lose program, and did not even enjoy it!
I know it was diet coke, and I told myself it was not contributing to my weight problem, but there is evidence that even diet sodas cause weight gain, ( we think OK, I'm drinking a diet drink so I can eat more food) this is probably more of a subconscious act, but it does happen.
Now I drink at least 8 glasses of water a day. It is healthier and much more refreshing too. I really thought I was addicted to Diet Coke, But obviously I'm not. I would love to have the money I have spent on it over the past 25 years!
I no longer crave red meat, Moringa has enough protein to replace red meat in your diet. I eat more fish and chicken and very little pork or beef. I was a huge fan of red meat before using Moringa.
I don't eat late at night, and I am no longer feeling hungry all the time. I am eating more fruits and vegetables, and loving it!
And today at the writting of this page I can fit into a pair of shorts that I have not worn in about 4 years! So fitting into old clothes feels much better than finding my "fat shorts" so I can be in something loose fitting. Now my normal clothes are fitting very loose, I love it!
Below are the products that I am using to help me with my weight lose goals.
Recommended Products - My products of choice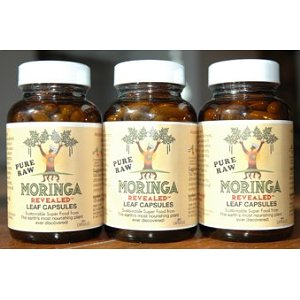 I use this product daily. I take one in the morning after breakfast and 1 in the afternoon before lunch.
Product Description Moringa Leaf Powder Capsules 3 Pack (3X90 vcaps). Three bottles of 90 kosher vcaps .


I mix a small amount of the Moringa powder in my orange juice each morning. I use a shaker bottle for better mixing.
I have also prepared food dishes and added a teaspoon full of powder to the recipe. You cannot taste it and it adds nutrients to the dish. So far I have added it to cookies! pasta salad and hamburger helper.
Moringa Leaf powder is carefully picked and prepared to preserve the valuable nutrients. The leaves nourish the body with essential micro and macro minerals and vitamins, complete amino acid, chlorophyll, antioxidants and other rare nutrients lacking in our daily diet plus anti-aging properties.
The health benefits are rapid improvements in: natural occuring energy and endurance, mental clarity, lowering blood sugar levels for Diabetes. Moringa helps lower bloood pressure, balances hormones, immune booster, constipation, diuretic, anemia, skin problems, eyesight and sleep aid. Enjoy overall well being when you use Moringa products


Product Description Nearly every part of the Moringa tree can be used to help sustain or preserve life in some way, be it in the form of food or medicines. Hidalgo Foods' Moringa Powder is derived from the moringa tree's nutrient rich leaves, which contain more vitamin C than an orange, more calcium than a glass of milk, more potassium than a banana and more iron than a serving of spinach.Moringa Powder can be added to soups and stews for extra flavor and nutrition, or can be blended into smoothies, shakes or other beverages. It can also be lightly sprinkled on your food to fortify it with essential vitamins and minerals. Try it today and discover for yourself the reason why it deserves its title of "tree of life". Among its many health benefits, moringa is very powerful immune system booster.


Enter the Moringa Store Here
Preview Products and Enter the Store Below
The products that I am using are the Revealed brand of Moringa pills and Hidalgo Foods' Moringa powder. The powder mixes into water or juice. I prefer to mix it with orange juice. (It has be be shaken very well to mix correctly).
The pills can be taken up to 3 times a day. I usually take 2 pills after breakfast and 2 in the afternoon.
I notice no jittery feeling at all, like other diet products have.
By the way this is not a diet, diets end and the weight goes right back on, most of the time very quickly. This is a lifestyle change for me. To get healthy, lose the weight, feel better, look better, and have the confidence and energy to get out there and enjoy life. Being overweight drains you of valuable energy and increases the odds for lots of health issues. I have recently discovered that my blood pressure was at the dangerous level. I am now on meds to control it, but hope that with losing the weight, the meds will be lowered or removed entirely. Moringa is known to also help reduce blood pressure too.
I have increased energy, but not nervous feeling. I am also sleeping better and that is a huge plus for me.
I will keep you posted on my weight lost acomplishments as they progress. My goal is to lose 50 lbs by my 50th birthday on Oct 30th. With the 22 lbs lost so far, I really feel Like I can do it.
UPDATE - 13 LBS LOST IN 4 WEEKS! SO HAPPY TO REPORT
UPDATE I HAVE NOW LOST 15 LBS, IN 5 WEEKS! USING THE PRODUCTS ON THIS PAGE
UPDATE - I HAVE LOST 17 LBS IN 6 WEEKS, SO THAT IS AN AVERAGE OF ALMOST 3 LBS A WEEK SO FAR! AND SINCE I AM NO LONGER A YOUNG ADULT, THAT IS A GOOD AVERAGE.
UPDATE - As of July 5TH I have lost 20LBS! in 7 weeks, I love it!
UPDATE MID WEEK- 22 LBS LOST IN 7 1/2 WEEKS! NOW THAT IS INSPIRING!
FRIENDS AND NEIGHBORS ARE NOTICING, THAT MAKES IT SO WORTHWHILE TOO. I AM 1/3 THRU MY GOAL,OF 50 LBS LOST.
Give it a try! You can do it too.