Enjoy the Outdoors More with a New Outdoor Kitchen
Check out Our Backyard Living Store to shop for Grills and Outdoor Furniture for your Outdoor Kitchen


An Outdoor Kitchen will provide you with more enjoyment when cooking outside.
It is amazing how good food tastes when cooked on the outdoor grill!
Outdoor entertaining is more enjoyable if the food can be prepared at the party site.
And outdoor living spaces such as kitchens often serve as an extension of the house, depending on their location.

Have Fun with the space, create a casual, informal Outdoor Kitchen
Get your Grillin Time Barnwood Scrappy Sign by Rented Mule at our home and garden store. Click on the photo of the sign to visit the store. Available in custom colors too.Any wording is available, including Mancave, Party on the Patio, and more
Roll out the grill it's time to flip some burgers. The heat, flame and weather resistant mat keeps rollaway grills from escaping. Low maintenance, easy care mat cleans easily with mild soap and water. 100 polypropylene with recycled rubber backing.
Get Grillin with a Gas Grill! - A must for an Outdoor Kitchen
If you've graduated from modest outdoor neighborhood parties to the big leagues this all stainless steel outdoor grill has your number.
Featuring an impressive 680 square inches of total grill space the Char-Broil M500 50KBTU 4-Burner Gas Grill with Side Burner allows for massive service potential at a pace that will satisfy even the largest gatherings.
The main cooking area measures 500 square inches and the warming rack is 180 square inches. A side burner can be used for preparing or warming a variety of complimentary dishes.
With a total of 50 000 BTUs coming from the grill and 13 000 from the burner you're sure to have plenty of power and heating capacity for any marathon summer party.Locking casters underneath allow for a secure stationary grill that can be moved with ease when necessary.
And since the exterior is stainless steel as long as you practice simple cleaning procedures you needn't worry about dangerous contamination problems. Room is available underneath for storage of tools and assorted culinary secret weapons.
All in all this grill is a surefire summertime amenity guaranteed to make your barbeque the hottest ticket in the neighborhood. And At such a great Price, add this to you Outdoor Kitchen today.
Add some Smoke Flavor to your Grilled Food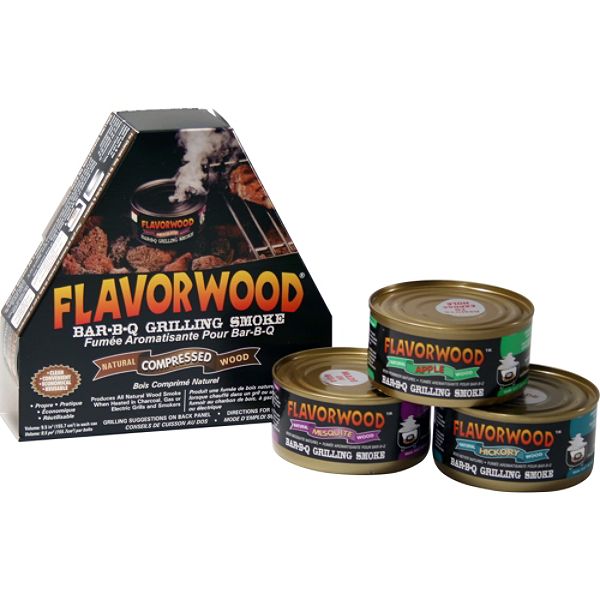 Produces all natural wood smoke when heated in charcoal, gas or electric grills and smokers. Just peel off the seal and put flavor into your meal.Smoke starts in about 2 minutes and you can vary the smoke taste by the length of time the can is on the grill.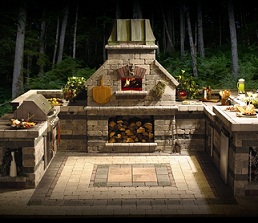 Ideally the best location is as close to the indoor kitchen as possible but that benefit is not always possible.
We don't have an outdoor kitchen yet, but I have been doing my homework.
I know where we are going to locate our kitchen when we do built it.
We removed an outdated unused hot tub from our back patio and the new kitchen will take it's place.
The photo on the right shows the patio we have at the back of our house. It will be the location of our outdoor kitchen when we build it.
Our kitchen will have a covered pergola over it to keep the sun off the area. The outdoor kitchen will be build next to the back wall of the house. The backdoor is close to the family room and office, so we will love being able to spend more time outdoors and entertaining!. The kitchen photos featured on this page are pictures of other beautiful outdoor kitchens.
Each one featured has special design benefits.
If your indoor kitchen is on the upper level of your house and you have a walk out basement the practical solution is to place the outdoor kitchen close to the basement entrance.
If the room inside is a family room or game room then an outdoor kitchen close by is great.
Recommended Reading and Products
Check out this Pizza Oven information below. A wood burning pizza over would be a nice addition to an outdoor kitchen!
~~~~~~~~~~~~~~~~~~~~~~~~~~~~~~~~~~~~~~~~~~~~~~~~~~~~~~~~~~~~~~~~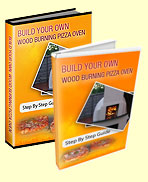 Build YOUR Own Wood Burning Pizza Oven
Get the Gourmet Experience Right at Your Own Home! "Who Else Wants to Make Delicious and Authentic Wood Fired Pizza to Share With Friends and Family?"Click Here! For Full Details
You Don't Have to Spend A Lot of Money On an Expensive Kit! You can build your very own Wood Burning Pizza Oven and make the same delicious pizza as you'll find in those authentic Italian restaurants all over the world!
Your loved ones will be thrilled to have their own personal pizza gourmet, and you'll be thrilled with the delicious results when you build it yourself!Click Here!
You don't need to waste time and money looking at inferior kits that cost hundreds or even thousands of dollars. Build Your Own Pizza Oven is a thorough guide that will explain everything to you clearly, simply and easily!
~~~~~~~~~~~~~~~~~~~~~~~~~~~~~~~~~~~~~~~~~~~~~~~~~~~~~~~~~~~~~~~~~
Ask yourself these questions, they are important to determine your outdoor kitchen needs.
Outdoor kitchens can be elaborate or modest. The choice is going to depend on your needs and your budget for the project.
Before you start the project keep a few things in mind-
Number 1 - Do you feel that you would enjoy grilling outside more if you have adequate work space around your grill?
Number 2- Do you entertain and want to mingle with guests as you cook?
Number 3- Do you mainly throw the food on the grill and only attend to it when you have to, as you dash out from the air conditioned indoors?
Get the answers to these questions below- past the Fun Party Items below!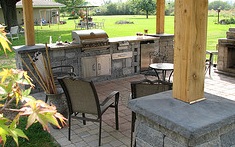 Mix Up some Cold Drinks!

Party on the Patio is Scrappy Sign that is available at the Rented Mule Home and Garden Store. Find Scrappy Signs here
Get the Party Started with this Frozen Concoction Maker
It's built to party Unlike a blender, the Frozen Concoction Maker shaves ice and blends it with your favorite ingredients for up to 36 oz. of restaurantquality consistency every time.
Take the guesswork out of frozen beverages with its preprogrammed automatic settings. Simply fill the ice hopper with ice, add ingredients to the blending jar and fire it up. It does all the work you take all the credit.
Manual controls let you shave or blend drinks to your ideal consistency. Key lime accent coloring, maritime markings and shark fin indicator lights. Brushed nickel housing, sturdy glass blending jar and stainless steel accent trim. Dimensions: 26"L x 14"W x 26"H. This Frozen Concoction Maker is the perfect party accessory for your outdoor kitchen!




Add other Outdoor Rooms to go with your Outdoor Kitchen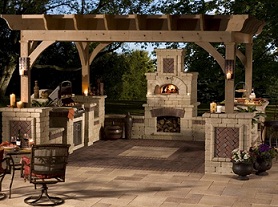 Question number 1 if you answered yes to -you feel you would enjoy grilling our more if you have adequate work space around your grill- then make sure when designing your kitchen you provide ample workspace.
If your new kitchen is going to be the prep area for your outdoor dining pleasure - make sure you have running water, a refrigerator, and storage space.
There are lots of options on styles of grills, and other outdoor equipment for your kitchen.
You can build the grill into a workspace and cover the counter top in tile or granite.
Important note- Dark counter top colors are beautiful, but they also attract heat. So if you are considering black, dark brown or charcoal gray granite and your kitchen is uncovered you will probably have some very hot countertops.
This can be a problem with discomfort. After all we cook out to relax and have fun. We don't need another heat source on a sunny day. So go with a natural or neutral color for a more comfortable outdoor dining experience.
Make sure you have plenty of seating area for stools and table and chairs in you surrounding area.
If you can put a roof over the outdoor kitchen consider a pergola style with vines growing over it for a nice experience. This is also less expensive than a full roof.
Question # 2 If you entertain and enjoy mingling with your guests , allow plenty of room for seating and moving around. Invite your guests to help in the kitchen while you are grilling and as with question number 1, provide plenty of work space so your will have space for your help.
Question # 3 if you mainly throw food on the grill and run back inside to the comfort of the air conditioned indoors you probably should not go all out and spend alot of money on an elaborate outdoor kitchen.
But if you can afford an area as close to the comforts as inside consider a kitchen with a full cover over it, with ceiling fans for added comfort. Plant trees close by for shade and linger outside and enjoy your new space.
Always be safe around pets and children, grills get very hot and stay hot for a long time after use. Keep pets and children away from the cooking area.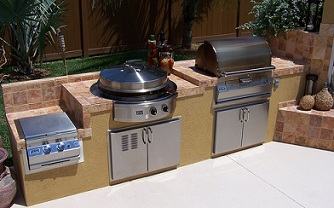 It takes some time to get the look you want, but when you do you will enjoy it
Outdoor living spaces, can be areas such as a comfortable seating area on a patio or deck.
Private areas for relaxing or reading, are sometimes called meditation rooms
Secret gardens, are where you go to get away from it all and love the experience of being outdoors.
All of the above outdoor rooms have become very popular. And are great ways to improve your home and garden.
Outdoor rooms, especially outdoor kitchens can serve as an extension of the house, depending on their location. Check out the link below for the perfect grill for your new kitchen.



Find out how to add a Secret Garden to your Outdoor Living Spaces and get more Backyard Privacy at the same time
Need some more inspiration for your kitchen? Check this site out to find the answers Kitchen Remodeling Ideas