Try these Holiday Decorating Ideas to get in the Spirit of the Season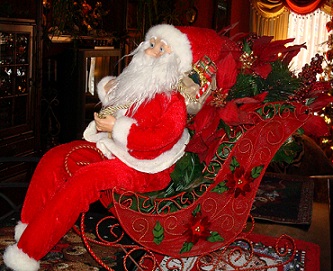 SHOP OUR CHRISTMAS DECOR STORE- OPEN YEAR ROUND
Need some new Holiday decorating ideas? Well there are several on this page. And now you can even shop for your Christmas Decorations at our Christmas Decor Store added to the bottom of this page, don't miss it, it is open year round for your convenience!
Try something different this year with your Holiday decorations. Notice these photos of Christmas decorations I have used at my home during the holiday season.
I have placed a santa in a sleigh with flowers. These items were all purchased seperately.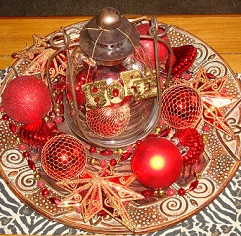 I have taken a lantern and filled it with ornaments then surrounded it with an assortment of red ornaments.
The arrangement is placed on a charger plate.The decor of the room is safari.
The red and gold colors blend fine with the browns and brick colors of the room.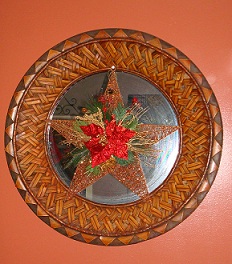 Notice the photo of the mirror. A gold star decorated with flowers is hanging in the center of mirror.
This Holiday decorating idea is simple to do, but adds a festive flair to the area.
These photos show examples of the tradition red and gold colors of Christmas.
Keep reading for lots of holiday decorating ideas in other colors too!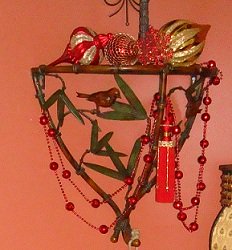 .
The wall shelf had ornaments placed on top of it and bead garland draped below. I have one of each side of french doors on this wall.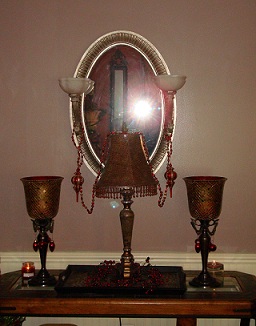 Notice the photo on the left above. This shows some red and gold bead garland draped from the wall sconces to the lamp.
I have placed 4 small red ornaments on the beads of the candle holders. The lamp has a small circle of berries surrounding it.


Thinking about have a Holiday Party? Do you need help with the details? Take the stress out of planning the party, give Punchbowl a try. Click on the link below for all the help you need.
Decorate Outdoors before it gets so Cold!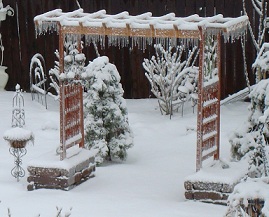 If you still need some fall decorating ideas just click here.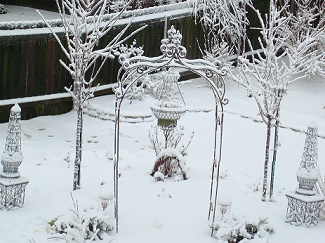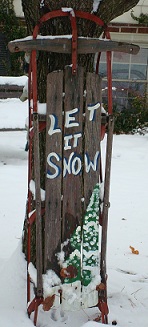 If you enjoy the holiday decorations, you can decorate as soon as Thanksgiving Day.
It just makes sense to go ahead and get the outside decorating over with when the weather is nicer.
If you install outdoor lights, your don't have to light them every night. But getting the holiday decor displayed outside can be alot of work.
There is no need to add to the trouble by waiting until you are uncomfortable because it is cold outside.
It will be cold enough when the decorations need to be removed.
Go through your holiday lights and make sure they are proper working order. Do this before you install them. You may need to replace some bulbs.


Before you start to decorate, go outside and look at possible locations for lights and decorations.
Your landscape may be large enough to be the background you want for Christmas lights.
Decide on a color scheme too. Some people do all one color lights. Others like to mix it up. The choice is yours, do what you enjoy the most.
I like color, so I used multi colored lights. But using solid colors and multi colors works too.
We used to add lights to the top of the house and have them hanging from the roofline.
Looking for other Holiday Decorating Ideas besides Thanksgiving and Christmas? Check out our Seasonal Decorating Ideas page here.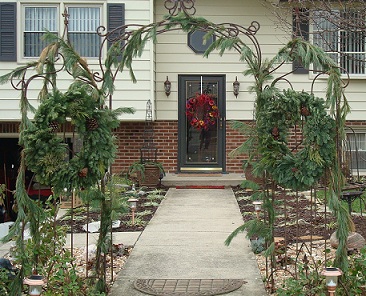 This year we are going to keep most of the outdoor decorations at ground level.
Other holiday decorating ideas include adding lights around windows and doors. They can usually be done with just an 8 foot ladder. Sometimes the ladder may not be necessary. Even Better!
Consider hanging lights from fences or deck rails too. Of course this is only an option if these areas can be seen easily.
We have a deck on the second story of the back of our house. The railing can be seen from 2 angles. We are considering hanging lights from the rail.
Since we moved our fence foward it is also visible from the street. There is another opportunity for decorating for the holidays.
At the time I am writing this page I do not have photographs because I have not done my holiday decorating yet. As soon as I do, I will add photos from our own decorations.
If you have any wrought iron decorations in your landscape they make great items for decorating for the holidays.
Add lights and garlands to oblisks, topiaries, trellis' and arbors.Hang lighted garlands around doors and outdoor lights. Wrap a post light with lighted garland too.
Really look at what you have to work with and you will be surprised at the opportunities you may have.
I have all of these items in my landscape. I usually add some lights, bows, and garlands to various decor items.
My climbing rose bushes have grown so big that I cannot decorate my front arbor and trellis like I used to. See Photo right- But now my bushes that we planted are large enough to decorate.
Change it up a little each year, so you don't get bored with the look.
I will add more outdoor holiday decorating ideas photos soon.
Decorate Indoors for the Christmas Holiday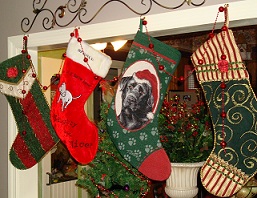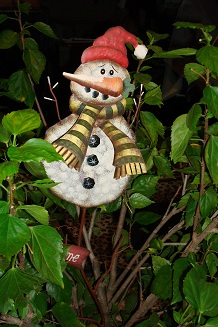 Indoor Holiday Decorations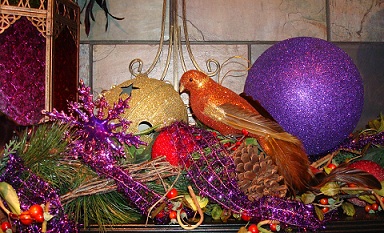 Indoor holiday decor can range from simple to extravagant. Alot depends on your preference and the amount of space you have to work with when decorating.
Decide on a color scheme for you decorations and be consistant within a room. If your floor plan is open be consistant within adjoining rooms too.
I use one color scheme upstairs and a differnt one downstairs.
I use traditional red, golds and greens upstairs on my main floor. In my basement in my family room I use bronze and purple. (Purple is my favorite color, so when purple holiday decor became available I had to have some)!
If you have a limited area that you can decorate think outside the box. Instead of thinking you can only use a tree, you may have other options.
For instance, if you have a stairway, you can decorate the railing. Drape decorated garland around the stair railing for a festive look.
A fireplace mantle makes the perfect location for holiday decor. Hang a wreath and place ornaments and garlands on the mantle. hang stockings from holders on the mantle.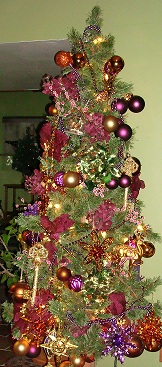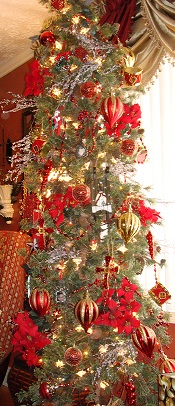 I use traditional red, golds and greens upstairs on my main floor. In my basement in my family room I use bronze and purple. (Purple is my favorite color, so when purple holiday decor became available I had to have some)!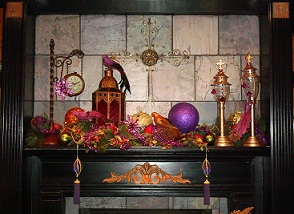 Decorate around the front door. Your entry is a great place to start the decorations for the holidays. Hang garlands around the door, or place a decorative swag above the door.
An entertainment center can hold a nativity scene. ( Mine does).
See Photo below.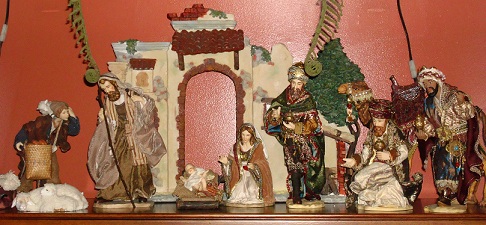 See Christmas Ornaments Placed on top of my Entertainment Center, with my everyday Safari themed decor.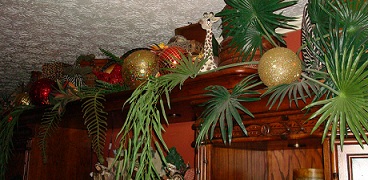 Place large ornaments and decorative items on top of hutches, cabinets etc. Before you know it, you will spot lots of un thought of locations for decorating!
You can customize simple holiday decorations by adding ribbon, lights and ornaments to them. I have a few garlands that I changed the look of by do that to them.
As I decorate for the holiday season this year I will share photos and more ideas.
If you have some great holiday decorating ideas you would like to share please do so. The invitation is at the bottom of the page. I look forward to sharing your ideas with visitors.
Shop Our Christmas Decor Store- Sneak Peak Below