Find out how to Build a Sturdy, Rustic Potting Bench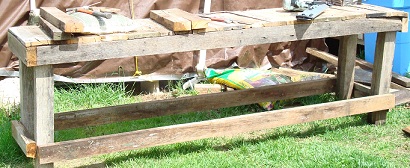 Out of Recycled Materials, That Doubles as a Work Bench
Read this page to find out how you can build a potting bench yourself, out of recycled materials, or purchase one, if so, we have plenty to offer.
Find out how you can build a potting bench. Our design also makes a perfect work bench for building small items, or holding tools while working on projects.
This design is very simple in style and can be customized to your individual needs.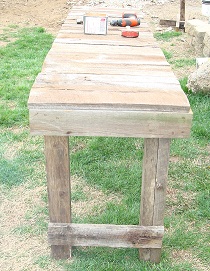 Shop for Garden Signs made out of Barnwood here

Shop for Your Backyard, Your Gardens, and Your Home here

Shop for Woodworking Plans Here
Recommended Products
This potting bench is dual purpose. We needed to build a potting bench for working with container plants and we also need a work bench for our garden shed project that is getting started. But if could also be covered for a outdoor party and used as a buffet table if needed. I could see this a basic countertop for an outdoor kitchen too. All this, while keeping in mind that it is rustic, which makes for a perfect setting for an informal event.
So, with all of this in mind, we decided to build a potting bench that would take care of everything we need to do while we are building the new garden shed. And after the new shed is built the potting bench will become a permanant work bench in the new shed.
This new garden shed is going to actually be two rooms, so I will need a potting bench and he will need a work bench for his part of the shed.
This potting bench/work bench is being built out of reclaimed barnwood. It is one of the many projects that we have done out of barnwood that we reclaimed.
This means that we save trees and money at the same time. I estimate that - to build a potting bench like this one out of new materials would cost at least 300.00
But if you have to buy new wood to do the project, it is still a good investment because you should be able to get alot of use out of it, for a long time.
We offer them for sell below, and at the bottom of this page and at our Garden Supply Store
Here are all of the Details on how to Build a Potting Bench
Out of Reclaimed Barnwood
First of all - this rustic design does not have to be perfect, especially if you build it out of recycled building materials. It is a work station, so treat is as such.
If you intend to use it outdoors, build it out of pressure treated lumber, or protect it with outdoor water sealer and polyurethane.
Ours is going to be outside for a few months, so we are going to protect the top from the weather.
The biggest details that are important about the look of this bench is the fact that it is sturdy and level. It is not the most attractive style available. You can order those if you would like at the bottom of this page. This one is a work station and a money saver.
The potting bench is 8 feet 4 inches long, 24 inches wide and 32 inches tall.
When you see this photo with our crew Chief, our black Lab - CJ near the beginning construction you can see that is a large work bench.
These dimensions were thought out carefully.
In our case we are going to install the bench inside of the new shed so it has to fit the space when ready. The space is going to be 9 ft x 14 feet, so the bench was built 8 ft long to fit the space easily.
It is 2 feet wide so it is easy to work on without being to wide to reach across easily. And it is 32 inches tall so it is a good height for standing, working on a container or project without having to lean over.
This is slightly taller than a regular desk or table and slightly shorter than a kitchen cabinet.
This bench is built out of 2x4 lumber. The 2x4's were doubled for the legs. And Cut 31 inches tall. They were nailed together in 5 places on each leg to make sure that it was sturdy.
If you are working with reclaimed wood that is old, such as barnwood, it is harder than new wood. Drill the holes first, to make nailing them together easier. Or if you have a framing nail gun you can use it.
Materials used
2 2x4's 8 ft long - for the sides
2 2x4's 2 ft long - for the ends
8 2x4's 31 inches - for the legs - doubled*
2 2x4's 8 ft long for the braces in the bottom 2 2x4's 2 ft long for the end braces *note 4x4 31 inches long can be substituted if available. We used 1 4x4 and 6 2x4 for the legs.- Remember this potting bench is made from reclaimed materials,so we used what we have available.
3 2x4's 20 inches long for the top, inside the frame 1x 6 x 24 for the top- this can vary depending on the width of the boards.
Example since this was random pieces of barnwood 1 inch thick it may be different than using 1-6 inch new lumber some of our boards were less than 6 inches wide, some were more.
New 1-6 for an 8 ft bench would need 16 pieces of 1-6x 2 feet to make the top.
Brace the bottom with 1- 2x4's placed about 6 inches from the bottom for added strength. 2- 2x4 20 inches long.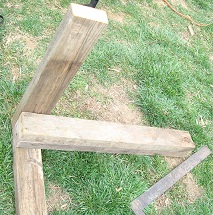 When you build a potting bench like this one, it should be durable and take whatever project you have in mind.
This design can be altered to the size you need, and you can build a shelf under it, or add shelves to the top.
We are keeping it simple for now, until it gets installed in the workshop, then we will be making additions to it when it becomes a full time workbench.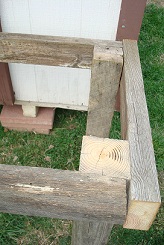 These photos show various stages of the construction as we were building the potting bench /workbench.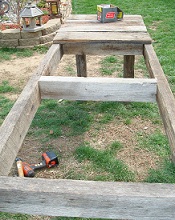 We are going to place it right beside our barnwood building materials so it will be with easy reach to use during the NEW garden shed construction.
See how to move a Garden Shed here.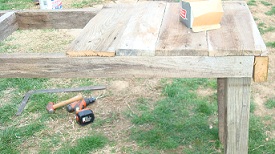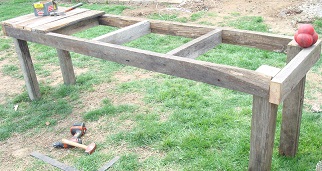 Now that you know how to Build a potting bench, find out how to build a pergola, out of reclaimed barnwood!



Check out the other Items we have made out of barnwood here
More Options- Potting Benches that you can order
Hand-Crafted Western Red Cedar Potting Bench - Style 10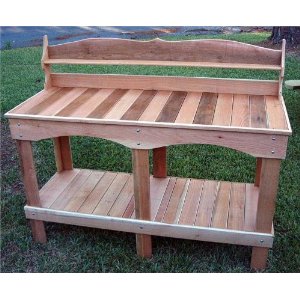 Hand-Crafted Western Red Cedar Potting Bench - Style 10



Potting Table (Cedar) (36"h x 48"w x 25"d)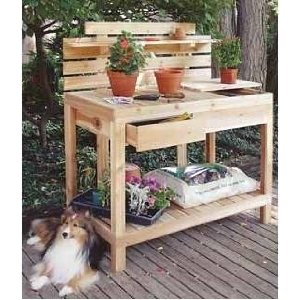 Potting Table (Cedar) (36"h x 48"w x 25"d)


Potting Bench: Garden Center