Shop for YOUR Pets here at Our Home and Garden Store
And Now you can purchase Gift Certificates to use in the Rented Mule Home and Garden Store! It doesn't get any easier than that!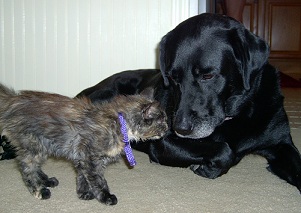 Scroll Down to Start Shopping
The "For YOUR Pets" page of the "Home and Garden Store" is all about our furry friends. You can shop for YOUR pets from the comfort of your own home.
But if you would like to see our pets and get their stories read about them first then shop. I have part of the story here and the rest is below the shopping area of the page.
I hope you enjoy your shopping experience, while shopping for your pets, at our "Home and Garden Store".
The photo you see here is an example of our love for our pets. I am sure you feel the same way about yours.
When I met my husband he had 1 dog, CJ.
CJ is a black Lab, and she is a very faithful companion to Terry. She will be 10 years old this December.
We both love animals, so our pet family grew quickly. Our pets are our kids, and now we have several.
I will share some of my favorite memories with you. Here are more pet photos and stories.
In the photo above our dog, CJ is affectionate with a new member of the household.
That was 3 years ago. Coco, the kitten in the photo was found by my husband at a job site. She was under a car, at the front wheel. He just happened to be at the right place in time to save her. She was about 2 months old when he found her.
Terry brought her home to join our family. We loved her immediately. She was very sick and near death.
With good care and lots of love she has grown into the beautful cat in the next photo.
She was our first cat. CoCo will be 4 years old next spring.

The next photo is my dog Bronco. ( I claim him, he loves both of us).
He was a rescue dog. We visited a Pet Smart in our town looking for kittens. (Before we got CoCo).
They did not have any kittens - but Bronco stole our hearts immediately! (Secretly, I think Terry was hoping for a second dog). He was used to having more than one pet.
I call Bronco a tuxedo cat because of his black and white markings!
He is a Lab/ Border Collie Mix. Bronco is very loving and extremely intelligent.
He was 14 months old when he joined our family. Bronco will be 5 years old next spring.
Someone had abused him before we rescued him, and he is still a very nervous dog! It is a shame.
I don't understand anyone being abusive to animals. Bronco is a wonderful dog. We are very happy to have him.
He and CJ get along great, and they both travel with us when we go camping. Bronco loves to ride!
See more pet photos and stories below the pet items featured on this page.
Time to Shop for your furballs!
There is a link to thousands of pet items at the after the Scrappy Signs. Make sure you check it out too.
For Starters check out the Scrappy Signs for Pets, by Rented Mule.
These barnwood signs are just like the other Scrappy Signs, except they are all about pets.
See the photo below of an example of a Scrappy Sign for pets.
I painted this sign to hang on our fence. It features the names of our dogs with some paw prints.
You can have your dogs names on a sign like this too!
Order below. Specify pet names, and colors in the areas provided. 1 to 5 pet names can be painted on the signs. Check the box for the required amount. Paw Prints are included.
If you need more than 5 pets names on a sign refer to the custom Scrappy Sign page.
GRAND OPENING SPECIAL! FREE SHIPPING ON ALL SCRAPPY SIGNS SHIPPED IN THE USA
---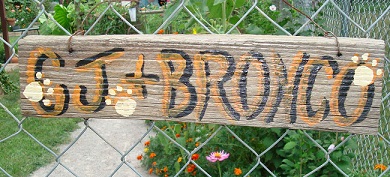 ---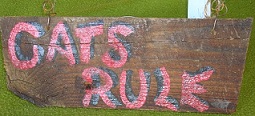 "Cats Rule" Scrappy Sign for Pets $20.00
This sign is approx 11" x 8" solid oak antique KY Barnwood.
GRAND OPENING SPECIAL! FREE SHIPPING ON ALL SCRAPPY SIGNS SHIPPED IN THE USA
---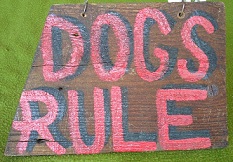 "Dogs Rule" Scrappy SIgn for Pets This sign is approx 13" long x 9"tall Solid Oak Antique KY Barnwood
GRAND OPENING SPECIAL! FREE SHIPPING ON ALL SCRAPPY SIGNS SHIPPED IN THE USA
---
You can Shop for your Pets at the store below! There are thousands of items to choose from
You can go back to the Home and Garden Store or other locations at the links below.

Go to the Home and Garden Home Page Here

Shop for YOUR Home Here

Shop for your Garden Here

See our Pet Photos Page here
More Pet Photos and Stories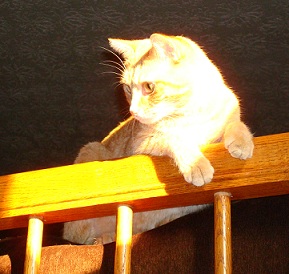 The next addition to our pet family was Tom. This photo shows him sunning himself on the stairail.
The story behind Tom is-
Before we found CoCo I wanted 2 kittens. I feel animals do better in pairs. That way they have a companion.
Cj has Bronco
Coco was alone.
Since we already had one kitten, having CoCo, I was in search for a kitten to grow up with her.
I had a co worker that needed to find a home for a kitten. I got Tom from him.
Tom was just about 3 months old when we got him. He is a great cat. CoCo and Tom were friends quickly and grew up together. It worked out great.
Tom is named after a big yellow tabby cat that my grandmother gave me almost 30 years ago. He was a wonderful cat. This Tom is too. He will be 4 years old next summer.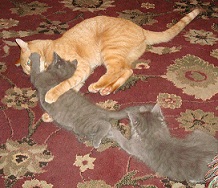 Both of our adult cats are indoor cats. I am used to having cats outside and inside if desired. So I still wanted outside cats.
Each time we shopped at PetSmart I would have to visit the kittens.
Each time I left alone. My husband insisting we did not need more cats.
Then, finally my husband surprised me with exactly what I had been looking for.
He brought home 2 gray kittens! The photo on the left shows Tom playing with our latest additions to the family. Taz and Tig are about 9 weeks old in this photo.
I call Tom " papa Tom" now. Just one of many nicknames he has. All of our pets have lots of names. Tom loves the new kittens.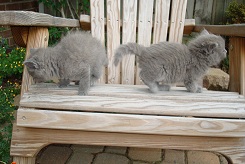 Below is a photo of Tig and Taz outside on the patio!
Now I have my garden companions! They are about 7 weeks old in these photos.
We got them when they were 5 weeks old from some nice people advertising them on craigslist.
They wanted to find a good home for them, and Terry came to the rescue again! I am very thankful they let us adopt them.
They are supposed to be outside cats, BUT hummm, I have only had them outside a few times and never without me being right there the entire time. I am very attached to my baby boos!
They are adorable and growing so fast. They will probably be primarily inside cats.
You will see more photos of our pets on several pages of this site. I hope you enjoy them as you shop for your pets and get inspired by the home improvement projects you see here at www.improve-your-home-and-garden.com.
Share the link to this site with your friends.
Find out more about me and how I made this site at the link below.
Find out more about me and why I love owning a web business and working from home, surrounded by my pets !

Purchase Gift Certificates Here