Get Garage Items and the Tools YOU Need, and Save Money with our Weekly Specials
If it goes in the Garage or Workshop it is located on this Garage Items page. That includes tools, lawn equipment, shelving and more
Sno Wovel Wheeled Snow Shovel » ComfortFirst.com
CLICK ON THE PHOTO OF THE SNOW WOVEL BELOW, GO TO THE WEBSITE AND WATCH THE VIDEO ABOUT THIS PRODUCT!
The Sno Wovel wheeled snow shovel is a fast and safe alternative to shoveling. With virtually no effort, this snow shovel can throw snow without twisting or lifting.
The wheeled shovel design greatly reduces the risk of back and heart injuries associated with snow shoveling. The Sno Wovel revolutionizes the mechanics of snow shoveling - outperforming many snow blowers and is 3x faster than shoveling.
It is environmentally clean, quiet, and maintenance-free. The Sno Wovel multiplies mechanical force and leverage at the axle or fulcrum point of the 35-inch wheel.
With a seesaw action, it's possible to throw twice as much snow as a traditional snow shovel into piles over 4ft high. Great in all snow conditions, from slush to over 2-feet (and especially for heavy) snow.
Made of heavy gauge steel and injection-molded polypropylene, the Sno Wovel can move up to 2-feet of heavy snow with their 26-inch extra wide blade (and even slush). The frame, wheel and tire are warrantied FOR LIFE, durable yet lightweight and easy to maneuver - performance tested by professionals and consumers around the world.
Craftsman 283 Pc. Mechanics Tool Set With Tool Box » Sears.com
Set includes: 171 Sockets 3 Quick release ratchets 13 Combination wrenches 40 Hex keys 22 pc. Bit set with magnetic handle Comes with a sturdy metal tool box Drawers with molded trays for easy organization ~~~~~~~~~~~~~~~~~~~~~~~~~~~~~~~~~~~~~~~~~~~~~~~~~~~~~~~~~~~~~~~~

Brite Tread Aluminum Truck Tool Boxes » Cabelas.com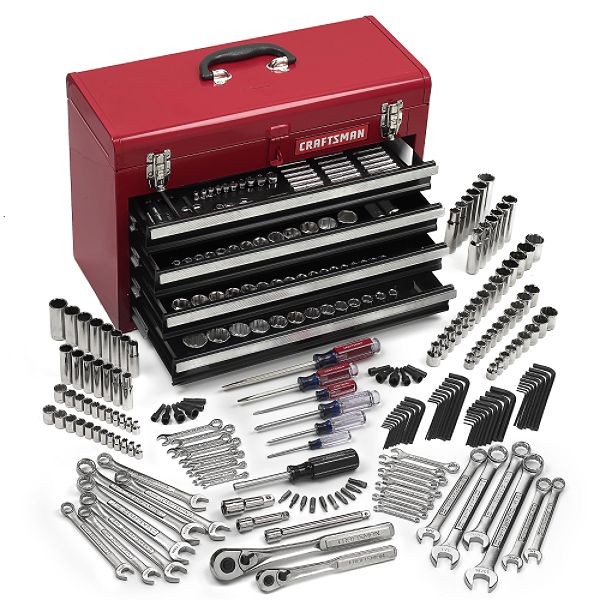 This truck tool box gives you years of service. All steel surfaces are treated with zinc phosphate and powdercoated. The Brite Tread aluminum models feature bright aluminum, diamond plate and powdercoated steel drawers. Made in USA.Measures: 191/2" x 1911/16" x 85/8".
Get organized with these storage containers!
Iris Storage Box Green #11292 - Storage Containers
Product usually arrives in 2-8 business days, depending on destination, including order processing and shipping. Store anything imaginable for your home, garage or outdoors with this rugged long life constructed storage container.
Thanks to the heavy-duty snap-down buckles you know items won't be falling out due to an unsecured lid. This large box is great for your tools, camping, hunting, boating and other outdoor activities.
There is also a hole in the lid and container enabling you to place a lock in to secure your items. This large plastic container has a reinforced structure for extra durability. This storage box is also great for stacking.
Weighs approximately 9 pounds. Interior dimensions: 24 7/8"W x 12"D x 14 3/4"H. Made in America. Assembly level/degree of difficulty: No Assembly Required Damages and Defectives: Please retain all original boxes and packaging materials until after 30 days of receiving the item. Click on the photo below for full details.>>




Evolution Rage 3 10" Mutipurpose Compound Sliding Miter Saw


Iris Garage Stacking Bin Set of 3 Black #44292 - Storage Containers
Product usually arrives in 2-8 business days, depending on destination, including order processing and shipping. Keep your garage organized with our Garage Stacking Bins. This is a set of one of each size (3 pieces) to store smaller items to larger ones. Great for holding sports equipment,gardening tools and supplies, auto acessories and more. There is even a slot for a label. Use on a shelf or stack. polypropylene. Also available in Small, Medium and Large - sold individually and in sets. Made in America. Assembly level/degree of difficulty: No Assembly Required Damages and Defectives: Please retain all original boxes and packaging materials until after 30 days of receiving the item. - Stackable Open Bin - Designed to fit standard wire shelving - nestable - slot to label contents - great for garage and basement storage Size Dimensions: 10.354H x 14.96W x 23.622D Iris Garage Stacking Bin Set of 3 Black #44292 - Storage Containers Click on photo below for full details>>
~~~~~~~~~~~~~~~~~~~~~~~~~~~~~~~~~~~~~~~~~~~~~~~~~~~~~~~~~~~~~~~~

Go Back to the Weekly Specials Home Page

Go to the Appliances and Electronics Weekly Specials Page