Gourds, Pumpkins, and Owls- Oh My!
by Teresa
(Lexington, KY)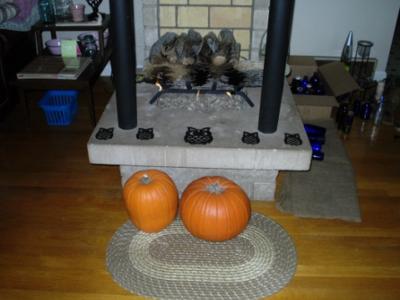 I think Autumn is such an easy season to decorate for and to me it's the most fun. The reason is because I like gourds and pumpkins and the vivid colors of fall. Imagine being at a craft festival or garden center on a slightly coolish day in the countryside. The sky is a clear blue background for trees clothed in red, yellow or orange, and the sunlight washes the landscape in a warm golden hue. This can make for a happy day for pumpkin picking or gourd shopping.

In the photos are ideas for a quick and simple harvest display. Do you have a favorite small rug in front of a cozy fireplace? Try placing a pumpkin or two on that rug. Or perhaps you've found an interesting-looking gourd that you'd like to set out, but it seems out of place on the table. When I lived at the apartment, I set a turban squash along with smaller gourds by a colorful striped rug.

I want to add that owls make good decorations for October. The owls in the photo of the fireplace are trivets that were given to me and stay there all year. The fireplace looked bare and needed something, but whatever was used needed to be objects that the heat wouldn't damage or catch fire to. Decorative trivets like these owls are ideal. The lady who gave them to me used to hang them on a brick wall in her kitchen.

A few years ago I stayed at a special place in Tennessee for the night and I think it was called the Owl Cottage. I've included photos of that quiet little inn which might inspire a theme for your home in the fall or all year. :)
Join in and write your own page! It's easy to do. How? Simply click here to return to Fall Decoraing Ideas.