Shop these Pet Stores from the Comfort of YOUR own Home
From The Leading Dog Training Expert



15% off Auto Ship Food Plan at PetFoodDirect.com! no code needed. ongoing


You can Shop these online pet stores with you furry friends close by you. You don't have to fight traffic, wait in line or get dressed to go out.
Petscriptions offers thousands of prescription and non-prescription medications, visit us today! Click on the link below.
Find out the Breed of your mixed breed dog and save $20.00
Relax in the comfort of you own home while you shop at the pet stores featured on this page.
We all love our pets. They bring us an incredible amount of joy and love. I realize this is a home improvement website. But in my opinion having pets definitely improves our homes and our lives.
As I write this, my 2 kittens are playing with me, at my desk.
Watch this video from pet source. and click on the link below for full details.
I mention our pets several times through out this website. We have 2 dogs CJ and Bronco, 2 grown cats, CoCo and Tom and 2 new kittens, Taz and Tig.
I have even devoted an entire page to pet photos. With other pet photos on other pages!
So, I feel it is only fitting to offer you the opportunity to shop our affiliated pet stores.
Affiliate links have been added through out the site to a variety of stores for your convenience.
So this is going to be the page devoted to items for your best furry, finned and feathered friends.
You can purchase everything you need for your pets right here. Even pet Food is available now.


There are even links to stores for pet lovers - like this one above!
Animal Den offers gifts for people that love pets. They sell lots of merchandise that features a variety of animal breeds.
I am featuring a link here that shows cats, but they have dogs, horses, bears, and alot more. Check it out.


I will also share some of my pet photos on this page too. I have another page devoted to pet photos too. The link is below.
I love to brag about my furry babies! So I hope you enjoy the photos. I also want to offer my help.
Let me help you- with any questions you may have regarding pet products or any other items you are shopping for on this site.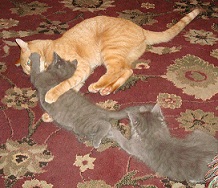 This photo shows Tom playing with the kittens, Tig and Taz. As you can see he loves them!
The next photo shows Tom lying on top of some office files. He is laying down on the job again! It is hard to get good help...
*Pet Stores Link-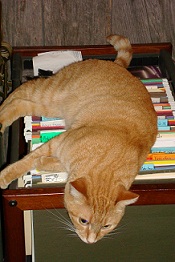 All of our pets get along great with each other.
You will save money by shopping with us.
This site is affiliated with several online stores and businesses that offer a good value and great customer service to my visitors.
No Surprises here, this is a sales page. I get paid commission of your purchase through the links on this site. The cost is the same for you, and sometimes you will save money. You will never pay more.
I have been in sales for a long time and hate pushy sales tactics. I bet you do too. My goal is to inspire and inform you in ways to improve your home and garden. I also want to offer my assist if it is needed.
I have an invitation for you to ask questions about pet products or share stories and photos about your pets.
That's right, show off you pets here and I will post the stories and photos on this website for everyone to enjoy!
The invitation is below.




See More of Our Pet Photos here!
Do you have a great story about your pets? Or even a question about pet products?
Do you have a great story about pets? Share it!

Post you question, or story here and I will post if on this website.
Visit these Pets stores too! And see more of our Pet Photos.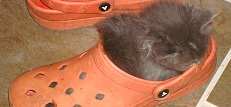 This photo shows Taz napping in my old garden shoe! She was only about 7 weeks old at the time.
The kittens are growing so fast.
It is showtime for CJ and Bronco. When we go outside with them they always have to play and run for a while.