Shop our Collection of Wine Accessories For YOUR Home
And Now you can purchase Gift Certificates to use in the Rented Mule Home and Garden Store! It doesn't get any easier than that!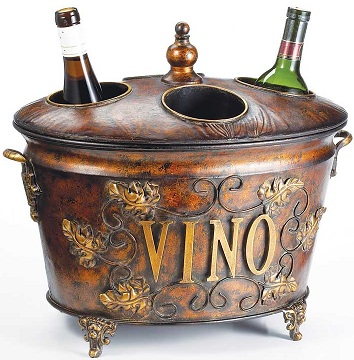 "Vino" 4 Bottle Wine Bottle Holder
43680,"VINO" FOUR BOTTLE WINE CHILLER. IRON.OP ANTIQUE COPPER/GOLD,IRON,ANTIQUE COPPER/GOLD,17 X 12 X 15
DECORATOR TIP -Place this beautiful Wine holder on a buffet for a party. Also great for a bar top.
In stock ready to ship.
Compare At $149.00
Our Price $119.00
12.50 Lbs
---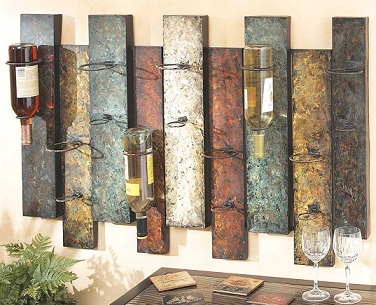 Wall Panel Wine Bottle Holder
10159,OFFSET PANEL NINE BOTTLE WALL WINE HOLDER. IRON,MULTI OVERLAY FINISH,
41 X 4 X 27inches,
In Stock for Shipping
DECORATOR TIP - This metal Wine wall panel has several colors that help to enhance the details of the panels.
Place it on a lighter colored wall. It would look great over a buffet or console table, for easy serving.
Compare at 189.00
Our Price 159.00
22.60lbs
---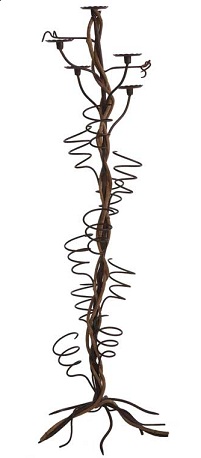 Branch and Vine Ten bottle Wine Stand
241356,RUSTIC BRANCH AND VINE TEN BOTTLE WINE STAND AND TAPER CANDLE HOLDER. IRON AND VINE.,19 X 19 X 60,
In Stock for Shipping, Compare At $219.00
Our Price $189.00
29.85lbs
DECORATOR TIP- This 10 bottle Wine Stand would look great in pairs -1 on each end of a buffet. Use taper candles in the candle holders at the top of the stand.
Decorate the item for your holiday parties by wrapping garland around the branch in the center!
---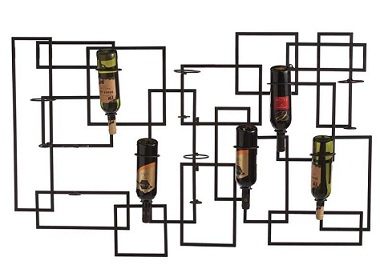 Modern Style Square and retangle Wall Wine Holder
241318,,MATTE BLACK RECTANGLES AND SQUARES WALL MOUNT TEN BOTTLE WINE RACK. IRON.
51 X 6 X 31,
In Stock for Shipping,
Compare At $119.00
Our Price $99.00
17.50lbs
DECORATOR TIP- This is a modern style Piece. Use on the wall in behind a bar, or over a buffet.
---

28 Bottle, Iron Floor Standing Wine Holder w/ wineglass holder
238387,Black 28 BOTTLE WINE RACK AND FOUR WINEGLASS HOLDER. IRON.18 X 17 X 49,
In Stock for Shipping
Compare At $ 229.00
Our Price $ 189.00
25.00lbs
DECORATOR TIP - Place this floor stand wine bottle holder in a corner near a bar in a rec room or beside a buffet in a dining room for easy access and serving of your favorite wine!
---
Purchase Gift Certificates Here